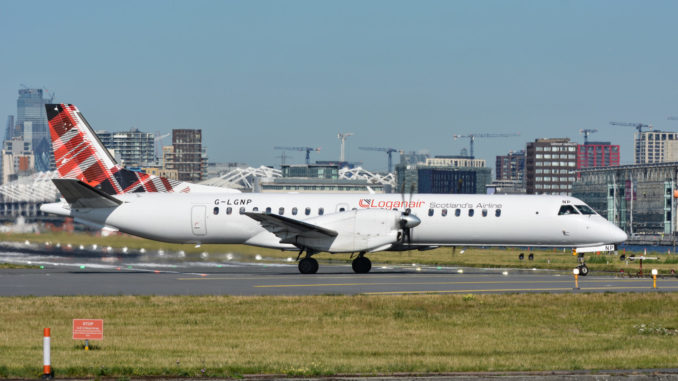 Regional airline Loganair LM/LOG) has reported a pre-tax loss of £5.6m for the 2020/2021 financial year having reduced its losses on the previous year by 77%.
Like all airlines, Loganair was badly hit by the Coronavirus pandemic and the lockdowns that followed and it saw its passenger numbers drop from 1.05 million in 2019/20 to 252,259 in this financial year.
The airline has been bolstered by some out of the box thinking by the management, led by Jonathan Hinkles, which has seen Loganair carry out its largest-ever programme of ad-hoc charter flights for construction workers, ships' crew changes.
One of its aircraft was even hired out to act as an "extra" in the filming of a Bollywood movie!
The airline was also able to use one of its biggest advantages, a rapidly changeable flexible business model, combined with careful cost-saving measures to reduce its losses from £12.7m despite the drop in passenger numbers.
Chief Executive Jonathan Hinkles said: "Without doubt, the last year has been the most challenging in Loganair's 59-year history.  The fact that we've been able to weather the storm is entirely thanks to the dedication and commitment of our people. We are incredibly grateful to all of them – and their contribution means that we believe Loganair is in the strongest position of any UK regional airline as we emerge from the pandemic."
The airline also has stable financing with a new CLBILS loan facility of up to £25 million with Clydesdale Bank was taken out in 2020 as well as the owners committing a separate package of support of £11 million over two years. As of March 2021, the airline's cash balance totalled £19.5 million.
The airline operates a fleet of 42 aircraft including Embraer Regional Jets and ATR Turboprops. These efficient aircraft have made it possible to introduce a raft of new routes from regional airports around the UK.
Loganair also keeps the Scottish Highlands and Islands connected and more recently, helped with getting vital COVID supplies to the region.
"Over the last 18 months, we've seen an amazing team effort to make sure that Loganair not only kept flying, but is now well positioned as life gets back to normal after COVID-19," added Hinkles.  "We're cautiously optimistic about the future; although we'll still see challenges including reduced demand for business travel and concerns about aviation's impact on the environment, we are confident that we can comprehensively address these with the same agility and team spirit which has served us so incredibly well throughout the pandemic."