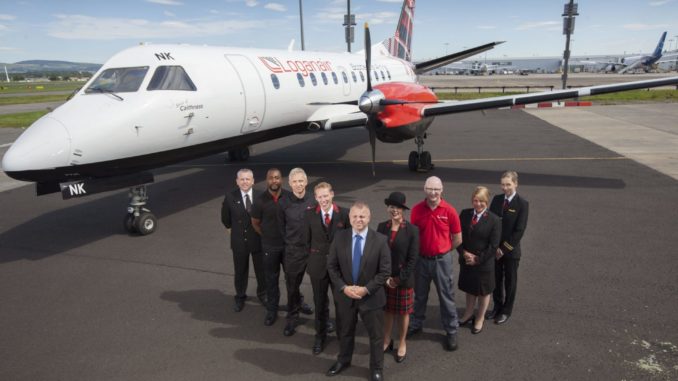 Scottish airline, Loganair (LM/LOG) has said it plans to launch flights from Carlisle Airport (CAX/EGNC) from June 2018.
The flights will be the first scheduled routes from the airport in 25 years after it was given a new lease of life by the Stobart Group.
Loganair will operate three routes to the Cumbrian airport which acts as the gateway to the lake district. Passengers will be able to fly from London Southend, Dublin and Belfast City.
The flights, which will have fares around £40 one-way, will be operated by a 34-seat Saab 340B aircraft.
Loganair Managing Director, Jonathan Hinkle, said "We're delighted to become the first operator at the new Carlisle Lake District Airport, and will be opening up Loganair's services to a whole new range of customers.
"With frequent services on each of the three routes, we have every confidence that these new flights will transform access to and from the Lake District for many thousands of customers each year"
With flight times of 1hr25m from London Southed, it provides a real alternative to the 3hr20m train trip which costs in excess of £120.
The full Loganair Schedule from Carlisle Airport
| | | | | | |
| --- | --- | --- | --- | --- | --- |
| Flight No | Departs | Time | Arrives | Time | Days |
| | | | | | |
| LM633 | Carlisle | 10:45 | Belfast City | 11:35 | M/TU/W/TH |
| LM637 | Carlisle | 15:25 | Belfast City | 16:15 | F/SU |
| LM634 | Belfast City | 12:05 | Carlisle | 12:50 | M/TU/W/TH |
| LM638 | Belfast City | 16:45 | Carlisle | 17:30 | F/SU |
| LM631 | Carlisle | 07:40 | Dublin | 08:55 | Sa |
| LM631 | Carlisle | 08:00 | Dublin | 09:15 | F/Su |
| LM635 | Carlisle | 13:40 | Dublin | 14:55 | M/TU/W/TH |
| LM632 | Dublin | 09:25 | Carlisle | 10:40 | Sa |
| LM632 | Dublin | 09:45 | Carlisle | 11:00 | F/Su |
| LM636 | Dublin | 15:25 | Carlisle | 16:40 | M/TU/W/TH |
| LM601 | Carlisle | 06:50 | Southend | 08:15 | M/TU/W/TH |
| LM603 | Carlisle | 11:35 | Southend | 13:00 | F/Sa/Su |
| LM607 | Carlisle | 17:20 | Southend | 18:45 | M/TU/W/TH |
| LM607 | Carlisle | 18:00 | Southend | 19:25 | F/Su |
| LM602 | Southend | 08:45 | Carlisle | 10:05 | M/TU/W/TH |
| LM604 | Southend | 13:30 | Carlisle | 14:50 | F/Sa/Su |
| LM608 | Southend | 19:15 | Carlisle | 20:35 | M/TU/W/TH |
| LM608 | Southend | 19:55 | Carlisle | 21:15 | F/Su |