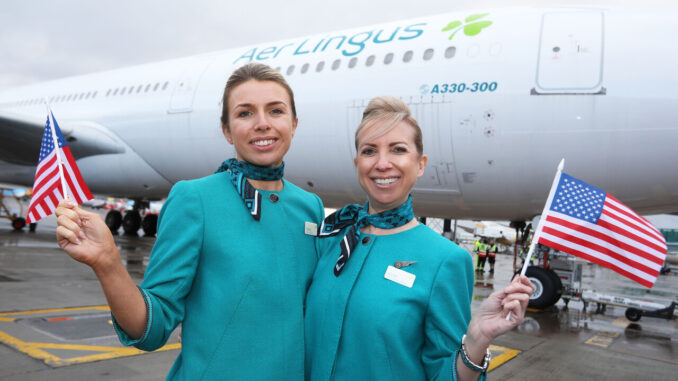 October 2021 saw the long-awaited launch of transatlantic flights from Manchester Airport (MAN/EGCC) from Aer Lingus and two years on, the airline is seeing strong growth and an expanding network.
Aer Lingus (operating as Aer Lingus UK) made the decision to offer a transatlantic service from Manchester based on customer demand for direct flights to the US from the North West of England and since its inception, the airline has flown around half a million passengers.
The airline launched flights using one Airbus A330 and one Airbus A321LR aircraft but has since changed to two A330s creating an additional capacity of 63,000 seats,
The direct flights offered by Aer Lingus are New York, Orlando and Barbados complimenting its existing transatlantic service via Dublin.
Susanne Carberry, Aer Lingus Chief Customer Officer, said: "We're proud to have increased choice for consumers in the North of England, who can now travel directly to destinations as diverse as New York, Orlando and Barbados, in addition to the eleven flights a day operated by Aer Lingus from Manchester to Dublin and Belfast. "We look forward to developing our offering and providing great value for our customers, combined with great service and a warm Irish welcome." 
fares to New York can be seen for as little as £349 return with Orlando coming in at £379 return. Barbados fares start at £498. All prices include all taxes and charges.
Andrew Cowan, CEO of Manchester Airport, added: "We're proud to serve the people of the North by connecting them to the places they want to go with a route network unrivalled outside London. 
"Few places epitomise the glamour, excitement and fun of international travel quite like New York and Orlando and it's great to think that over half a million people in the last two years will have experienced them through our partnership with Aer Lingus.
"Passengers in the North are able to fly directly from Manchester to destinations as varied as America, Barbados and, of course, Dublin with Aer Lingus. This partnership helps us connect the North with the world and we're looking forward to continuing and building on this in the years to come."
For those looking outside of the direct Manchester flights flying Aer Lingus to the US via Dublin not only offers more destinations, including the new Minneapolis-St Paul service starting in April 2024, but the chance to pre-clear US immigration at Dublin Airport saving you time on arrival as you enter the US as a domestic passenger.