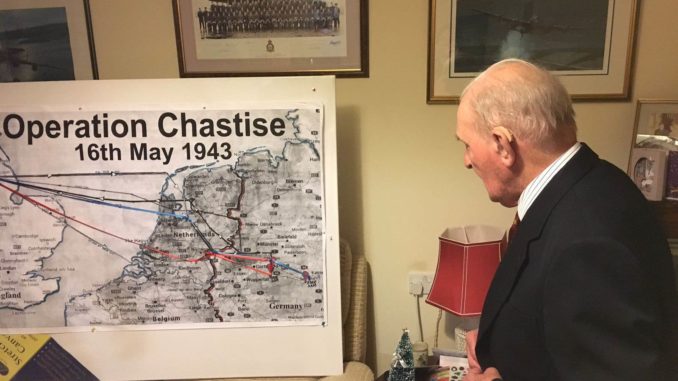 The last surviving Dambuster, Johnny Johnson MBE DFM will be giving a talk at Manchester Airport's Runway Visitors Park on 19th April.
The talk, which is part of Manchester Airport's 80th birthday celebrations, will see Mr Johnsoon talk about his role in the raids on German dams in May 1943 by the Royal Air Force 617 Squadron. It will take place underneath the wings of the Concorde that is on display at the park.
The aircraft used for the raid was the Avro Lancaster bomber which was largely developed and built in the factories around Manchester and its first flight was from Ringway airfield which became Manchester Airport.
Johnny Johnson MBE, said: "I am very much looking forward to our evening in Manchester. In my opinion, the Avro Lancaster was the finest four-engine heavy bomber aircraft of World War 2, myself and colleagues look forward to sharing our experiences of Operation Chastise and other missions where the Lanc was certainly put through her paces."
Peter Hampson, Chairman of The Aviation Society said "This is, without doubt, a unique event which will bring together so many fascinating people from the world of aviation. Johnny Johnson is a true hero having flown over 50 missions during WW11 and operated as a Bomb aimer on the Lancaster during Operation Chastise. It's very appropriate that Manchester and specifically the airport from where the iconic Lancaster made its first flight has been chosen as the venue for this presentation."
Mr Johnson is one of a number of special guests on the evening including Mary Stopes-Roe, (Daughter of Sir Barnes Wallis), Eric Verdon Roe (Grandson of Sir Alliott Verdon Roe – founder of the Avro Aircraft Company) and Sir Charles Masefield – President of BAE Systems and former Avro Chief Test Pilot.
The event starts at 5 pm and will end at 8.30pm. Tickets are priced from just £25 and are available from The Aviation Society website.