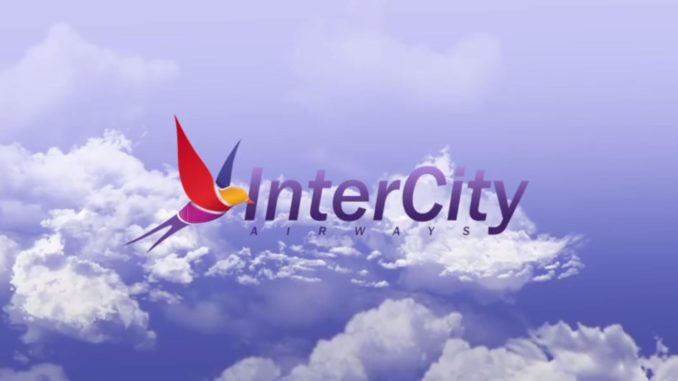 Aviation Wales exclusively talks to Intercity Airways about the new start-up
Very few people will realise that the birthplace of aviation in the UK was actually at Blackpool Airport in the North West of England. It's history dates right back to 1909 when the first official aviation meeting took place at the current Squires Gate site. It's fair to say that in the last 109 years the face of aviation has changed considerably and that is certainly true of Blackpool.
Blackpool's history with aviation may be rich but it's commercial passenger flights have suffered considerably in that time. The airport hasn't had a commercial passenger flight since the untimely demise of Citywing in March 2017 after suffering several problems with finances and with aircraft. The airline had offered a service from Blackpool to the Isle of Man, an air-link first established in 1935 and one that had been unbroken except during the war.
The problems affecting Blackpool have been ongoing for many years following a management take over by Balfour Beatty in 2008 which then saw the airport's passenger numbers drop. The drop was caused by a series of poor management and airline decisions as well as the financial recession. In 2014 it seemed all was lost when Balfour Beatty declared the airport bankrupt and closed it in October of that year. Thankfully this was short lived and the airport was able to open just a few weeks later with a new business plan and vision. Sadly that vision made it difficult to include passenger flights once the airports main terminal building was demolished in 2015.
However, It now seems that all of that misfortune at Blackpool could be over as a new regional airline is planning to launch from Blackpool Airport. InterCity Airways is the brainchild of Bradley Gosney and Paul Vernon, both of them are pilots at Blackpool and both heavily involved in the aviation sector. They are aiming to start services from Blackpool to destinations across the UK and Ireland.
InterCity Airways is initially planning to launch services using another airline's Air Operator Certificate (AOC) but has aspirations to obtain its own aircraft and its own AOC once the airline is more established in the future.
I was able to speak with one of the airline's Directors, Bradley Gosney about his plans and vision for the fledgeling airline. It is clear that Bradley and Paul are committed to making this airline the much-needed success that Blackpool needs. He explained to me that they are currently seeking investors to provide the initial capital to launch and he told me that they have already gained significant investment from someone who has a vast wealth of knowledge within the industry. Bradley went on to say that they are now speaking with several other potential investors.
Bradley said "We are very keen and committed to reintroducing flights from Blackpool Airport to destinations across the UK & Ireland, many of the destinations we have chosen have options for onward travel further afield with other airlines, including an option to fly onto the USA. We believe that Blackpool Airport is an ideal location for our airline as its small, friendly and convenient for passengers. Blackpool is also the UK's most popular tourist destination with over 18 million tourists visiting the resort every year."
He told me that initial talks have already been carried out with Blackpool Airports management and Bradley said they are keen to help InterCity resume air service from the resort's airport.
It is hoped that InterCity Airways will be able to begin service before the end of this year. The airline is expecting to launch its routes using a single Saab 340 aircraft that will enable them to carry 33 or 34 passengers. Bradley said they had already conducted talks with the planned airline and have now agreed to the terms of the lease. However, he said he couldn't disclose all of the details about the airline just yet.
He hinted to me that the initial route could be to the Isle of Man but said a full announcement about what destinations are planned is set to be made within the next few weeks.
The airline has already gained plenty of support from local people and businesses who are excited about the possible return of commercial flights from the resort. I spoke with local resident Paul Webster who is also involved in the 'Save Blackpool Airport' campaign group that fought for Blackpool Airport to be saved and now continue to help promote the site. Paul said "Blackpool Airport is a great facility that has been neglected for many years by the former owners. The airport used to provide excellent operations all over Europe and was very popular with Blackpool residents as well as many others from the surrounding area. While we may not get Jet2 back it's very encouraging to see InterCity trying to start operations. They will do well and have a lot of support from the Save Blackpool Airport Group as well as the local businesses and people."
While it still seems a long way off launching it is clear that Bradley and those involved in the airline are working hard to make this new venture work. Regional airports are fast becoming the preferred option for the travelling public because of their friendly hassle free atmosphere and Blackpool should be no exception. Prior to its closure in 2014 the passenger numbers were starting to rise and its flights had very healthy load factors. It is clear that demand for flights is there but the airport's owners have made it difficult for airlines to launch flights due to its current lack of infrastructure.
We certainly wish InterCity Airways the very best of luck and will be following their progress closely.