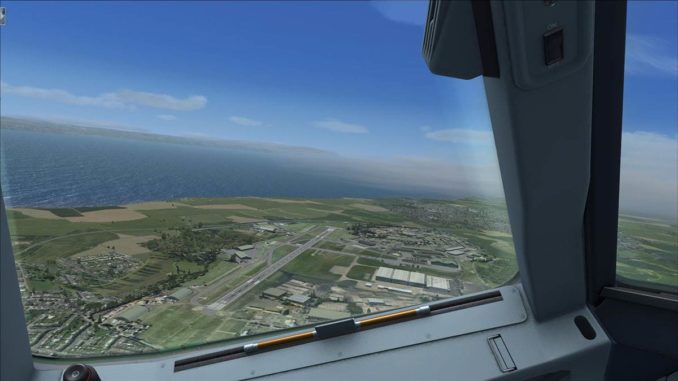 Flight Simulators such as Microsoft Flight Simulator X and X-Plane make it possible for anyone to take the controls of an aeroplane and fly around their favourite areas in high fidelity and for fans of Wales and Welsh Aviation, there is an abundance of ways to increase the realism of the region and really fly Wales!
What kind of flight sims are there?
The benchmark is still Microsoft's Flight Simulator X. Although discontinued by Microsoft some years ago it is still the most common FS software around. It has also had a recent revival thanks to the Steam platform with FSX Steam Edition although if you can get a copy on DVD then you will have much better access to add-ons.
Two others in the mix are Lockheed Martin's Prepar3D and Laminar Research's X-Plane. Lockheed Martin bought the proprietary rights to Flight Simulator X and reworked and improved it. It takes full advantage of Direct X 10 and is 64bit. Its used for professional flight training and not strictly available for home use (unless you tell them you are learning to fly *wink wink* where you can buy a student licence.
X-Plane 10 has been around for some time and is far more advanced that both FSX and Prepar3d, particularly in the terrain and scenery stakes, however, the add-on community isn't as well supported as say FSX, although it is improving. Some people also find X-Plane a bit confusing, especially if you have spent years using Microsoft's offerings.
So whats in it for Wales?
As mentioned earlier all the flight sims available have add-on communities both Payware and Freeware. For ease, we will focus on FSX (and to a degree Prepar3d as most scenery available for FSX also works in P3D). Be default the scenery in FSX isn't bad, the terrain is ramped up from previous versions and the mountains and valleys of Wales are all there. The airports are also all there but can be a little sparse and far from accurate.
That's where add-ons come in. As a start to get the whole of Wales looking better I would recommend Orbx FTX Wales. Orbx covers the whole of Wales so you get towns and landmarks that you will recognise along with improved terrain and coastlines. It also comes with a decent rendition of Cardiff Airport which certainly improves on the default one.
If you want to improve Cardiff even more though and get it as accurate as you can then you're going to want UK2000 Scenery's Cardiff Extreme. This highly detailed rendition of Cardiff includes every building on the airfield from the terminal, the fuel dump, BAMC and of course, the flying club! Its accurate taxiways and parking make it a must have for all those who want to virtually fly from the main Welsh airport.
Combine the two and you have a Wales that you will be able to fly around and enjoy the landscape you know and approaches into Cardiff that most real world pilots would recognise. (See the featured image for an image of a Thomson 737 approaching Runway 30 at Cardiff Using both ORBX FTX Wales and UK2000 Cardiff Extreme)
Want the Virtual Airline that has the most choice from Cardiff Airport?
If you're looking to take your flight simming to a slightly more structured level then you may consider joining a Virtual Airline. There are literally hundreds out there but we recommend Virtual Aviators Group because it has the most routes of any Virtual Airline from Cardiff Airport. Virtual Aviators membership lets you fly for all their networks with one log in and one website and from Cardiff they have Thomson, Thomas Cook, FlyBe, Eastern and Links Air as well as the BAMC flights between Cardiff and London from British Airways.
With over 6000 routes available you certainly won't get bored!