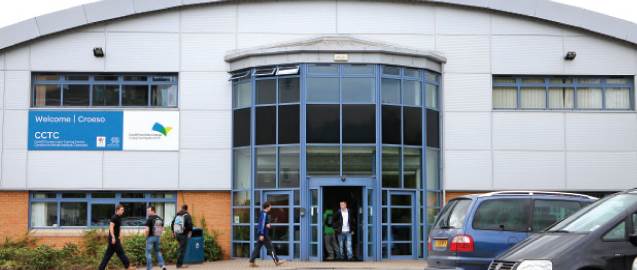 Teams of budding construction technicians and aircraft engineers from schools across Cardiff and the Vale of Glamorgan have been put through their paces at special Aero and Design & Construction challenges at Cardiff and Vale College.
Eighteen teams from 15 schools took part in the challenges. Held to mark National Science and Engineering Week, the competitions were designed to give school pupils a taste of the various tasks involved in the construction and engineering industries and to show the value of a vocational education.
The Michaelston and Glyn Derw High School Federation won the Aero Challenge out of the 12 teams from nine schools who took part, which was held at CAVC's International Centre for Aerospace Engineering at Cardiff Airport. Tasks involved hand and eye skills and project management and the Federation team scored 149 out of a possible 150 points.
Jon Durrant, Head of Design, Technology and Engineering at Michaelston and Glyn Derw High School Federation, said: "I took a group of six students with an interest in science and engineering to participate in the Aero Challenge to celebrate National Science Week. All six students thoroughly enjoyed themselves and threw themselves completely into the exciting and varied tasks.
"The tutors made my students feel very welcome, and they were excited to see the facilities that the College had to offer. The challenges were varied, including presentation skills, individual practical tasks and team challenges that represented different sectors of the aviation industry.
"The majority of the students are now very interested in pursuing a career in aviation, and would highly recommend this college and this competition to students and staff alike. I am very proud of my students' achievement in winning the competition and very grateful to the staff who organised it."
Barry Comprehensive won School of the Day on the day they took part. The school's Head of Faculty for Design Technology, said: "Our pupils really benefitted from the challenge as it gave them an opportunity to see where they may progress after they complete their GCSE courses. It also provided them an opportunity to experience the facilities that they can expect to be using should they decide to take this route into engineering.
"I would thoroughly recommend other schools to take part in the challenge as it is such a worthwhile activity that the pupils really enjoyed."
Six schools took part in the Design and Construction Challenge, which was held at campuses in Cardiff and Barry. Eastern High School won the Cardiff competition and Cowbridge Comprehensive were the winners in the Vale heat.
The teams were split into contractors with a Project Manager and were given a plot in which they had each had different tasks, from paving the floor through to designing and creating a tile mosaic and putting up fencing.
Chris Johnson, Head of Design and Technology at Eastern High, said: "The Design and Construction Challenge at Cardiff and Vale College was a brilliant experience for the pupils of Eastern High. There was a range of engaging activities that challenged the pupils' thinking, practical, teamwork and leadership skills led by knowledgeable staff in excellent facilities. The pupils thoroughly enjoyed their day and are very proud of their first place achievement."
Simon Perry, Mathematics and Engineering teacher at Cowbridge Comprehensive School, said: "This event is great, all the students were able to take away both practical skills from the challenge but also improve their team working and communication skills. The facilities and expertise of the staff ensured that all the pupils felt they succeeded and I am sure this was helped with the fact that our school won!"
Follow Cardiff and Vale College on Twitter for more information @CAVC