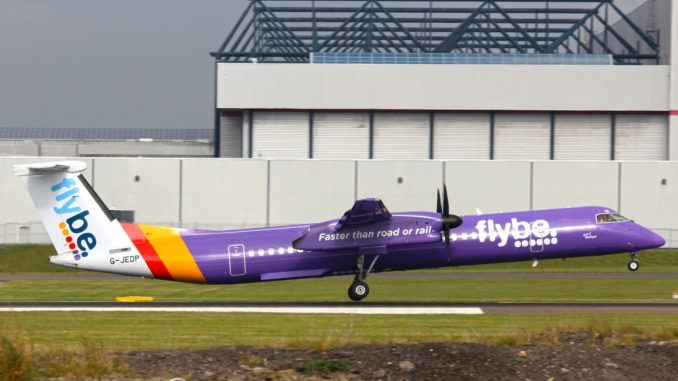 Europe's largest regional airline, Flybe has seen its shares drop overnight by nearly 20% after investors bail out of what appears to be another European airline hitting turbulence.  The drop in shares comes after the airline warned that escalating maintenance and IT costs would mean its half-year profit would be much lower than expected.
Flybe had hoped to make half-year profits before tax of around £15m but has since adjusted this to just over £5m which has sent investors running. This drop is in comparison to the same period last year which saw the airline make before-tax profits of £15.9m.
The airline has blamed this drop in profit on the high cost of maintenance of its Bombardier Dash 8 Q400 aircraft. The costs of maintenance in the first half of this year have risen higher than were first predicted following a review.  This is also in addition to the previously disclosed £6m they have planned for new and improved IT systems.
This drop of nearly a fifth in the share price has caused many of the airline's investors to think twice about Flybe after they have been struggling on and off over the last few years to make ends meet. By mid-morning, the shares had risen slightly but Flybe was still down 15%. at the time of writing.
The airlines Chief executive Christine Ourmieres-Widener said: "While half-year profits are lower than expected, I am confident that we are still on a clear sustainable path to profitability."
The Exeter based regional airline had already made plans earlier in the year to improve the business by reducing its fleet and focusing on building yield and load factors. Flybe like many other airlines is finding it hard to compete in a very competitive market, which is becoming more and more dominated by low-cost airlines like Ryanair and EasyJet.  Flybe has already posted a pre-tax loss of nearly £20m at the end of the last financial year which was down from a profit of £2.7m the year before.
Christine Ourmieres-Widener went on to say "Our sustainable business improvement plan is already delivering benefits with the fleet size now reducing and consequently both yield and load factors are continually increasing" 
Times are becoming increasingly hard for airlines around the world to make profits as competition increases and low-cost Airlines continue to drive down the price of tickets. Combined with the global economic situation and terrorist activities also continue to make the travelling public think twice about whether they will travel. Already this year Europe has seen Monarch, Citywing and Air Berlin collapse and with Italy's long-troubled Alitalia continuing to operate in administration it won't be long before another airline finds itself in trouble.