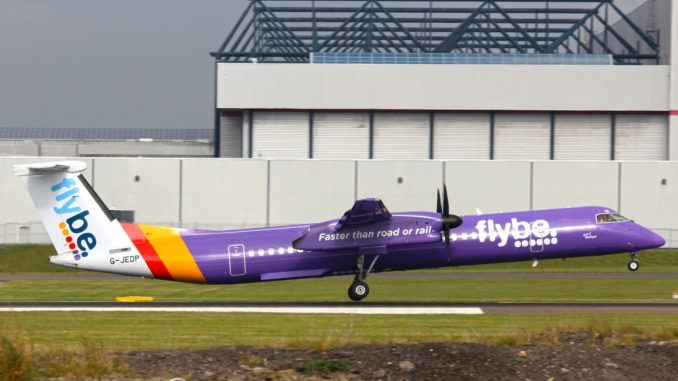 Flybe to offload all E195 jets and reduce number of E175
Exeter based regional airline Flybe is to reduce its fleet of aircraft to 70 over the next 2 years in a bid to make the airline more efficient.
The move will allow the airline to continue its strategy of reducing its overall fleet and to concentrate on profitable routes only.
Flybe has concluded that the Bombardier Dash 8 Q400 is the best core aircraft for its current and future needs and as a result, it will remain as the backbone of the fleet for the foreseeable future.  The turboprop is cheaper to operate than the Embraer Jets and more importantly for regional airports, it has a smaller noise footprint.
The airline plans to continue the handing back of all nine Embraer E195 jets to lessors Falko and Propius. Flybe will retain some Embraer E175 Jets. It currently operates 11 of the type.
Flybe still has an order for four Embraer E175s which are due in 2019. These aircraft will be delivered with new winglet technology to help reduce fuel consumption and the airline still intends to accept those aircraft but beyond that, Flybe does not plan any additional new aircraft orders for the foreseeable future.
Flybe CEO, Christine Ourmières- Widener said: "Flybe's strategy is to reduce the fleet size to an optimum level and make the business demand-driven rather than capacity-led. Our fleet configuration is an important part of that strategy. We examined exhaustively all the options and concluded the Bombardier Q400 is the best core aircraft for us. Its superior economy, speed and quietness is ideal for a regional airline such as ourselves. Together with a number of Embraer E175s, our future fleet will be the optimum required for our specific regional route network."
Flybe currently has a 3 aircraft based at Cardiff Airport, all of which are Embraer Jets. It is currently two E195 and one E175 aircraft.