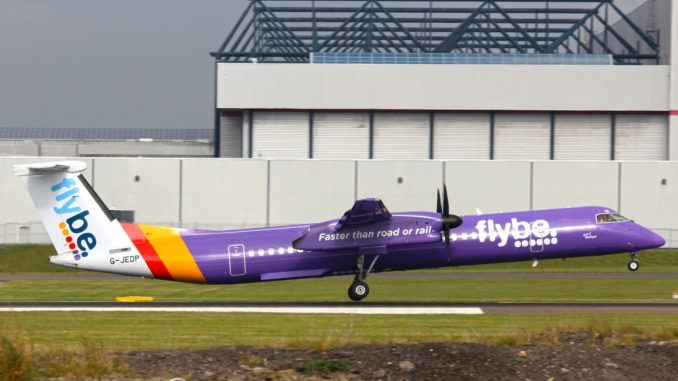 Flybe (BE/BEE) has today confirmed that it is ending the popular Cardiff Airport to London City route at the end of October. Aviation Wales contacted the airline yesterday following sources close to flybe stating that the route was being scrapped.
Their spokesperson told us "It is with regret that Flybe confirms its Cardiff to London City route will cease operation on Friday 27th October 2017.
Flybe originally agreed to operate this route on a temporary basis to support links between the two capitals during a closure of the Severn Tunnel in 2016 that disrupted rail services. Flybe then responded to requests from users and stakeholders to continue the service.
Despite the investment and hard work by all parties involved to build the market and the passionate support of a small group of regular passengers, the results have not reached the level required for the route to be commercially sustainable."
The route closure comes as a blow to Cardiff Airport who have recently seen increasing passenger numbers and a raft of new routes.
Flybe cited Air Passenger Duty and Welsh Government "inconsistencies" as the reasons it was unable to make the route profitable stating "It is on shorter routes like Cardiff to London that the market distortion resulting from the UK Government's £13 Air Passenger Duty is most apparent. Domestic air passengers are required to pay the duty for every UK departure, while rail and road travellers do not. This places time-saving air travel at an immediate disadvantage to other forms of public transport that are not similarly taxed, essentially eliminating choice and creating a transport monopoly."
Vale of Glamorgan MP and Welsh Secretary Alun Cairns has campaigned against the devolution of Air Passenger Duty to Wales despite the economic boost it would bring to his constituency. He has voted to raise Air Passenger Duty every time it's been before Parliament.
Reaffirming its commitment to Welsh Government owned Cardiff Airport they told us "Flybe remains committed to Cardiff Airport and will continue to explore new opportunities to expand its presence at the airport. Should the UK Government devolve APD and the Welsh government address its inconsistencies, Flybe would consider the possibility of re-launching the London City service."
Flybe has been undergoing a period of restructuring following losses in previous years. It's Embraer E195 aircraft, two of which are based at Cardiff Airport, are also coming to the end of their lease period.
They recently announced their Summer 2018 schedule from Cardiff Airport with no new destinations.
Spencer Birns, Commercial Director at Cardiff Airport said: "We appreciate Flybe stepping in to offer customers a fast and cost-effective alternative to the train and extending the service beyond the initial rail disruption.  It was always clear the route would be subject to demand and has been hindered by the high rate of Air Passenger Duty (APD) of £26 per return flight which impacts on commercial sustainability. 
"APD is a punitive tax that only serves to hinder airport and airline growth and we believe that it should be abolished at the earliest opportunity.
"We will continue to work closely with Flybe to explore opportunities to add capacity on existing routes and to expand the ever-growing choice of routes available from Cardiff in the future."
The Welsh Government have been asked to comment.