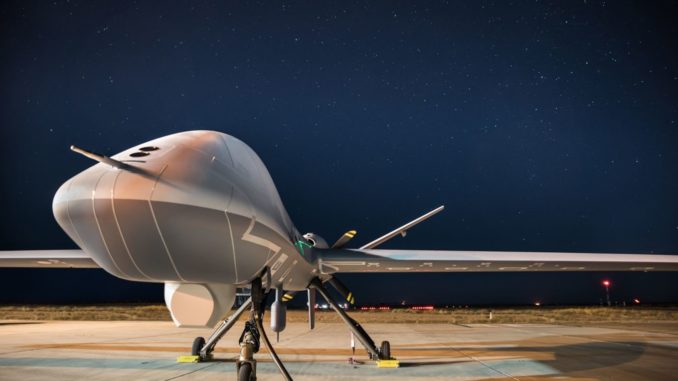 The first transatlantic flight for the new Medium Altitude, Long Endurance (MALE) remote piloted aircraft (RPA) has got underway from Grand Forks, North Dakota.
The General Atomics MQ-9B SkyGuardian took off at 12:48 pm CDT (6:48 pm UK time) and will cross the North Atlantic overnight landing at RAF Fairford in Gloucestershire at around 6:4pm tomorrow (11th July).
"This is a very exciting moment in GA-ASI's history," said General Atomics CEO, Linden Blue "To demonstrate the long endurance of unmanned aircraft systems, we took on the challenge of flying a MALE RPA across the Atlantic. This effort has taken a lot of coordination and we appreciate the support of the CAA, RIAT organization and the RAF in this endeavor."
The UK is acquiring the MQ-9B as part of its Protector RG Mk1 program and as part of the RAF100 event, the UK's latest UAV will be on static display during the International Air Tattoo at RAF Fairford.
MQ-9B is the new generation of General Atomics multi-mission Predator B product line. The company named its baseline MQ-9B aircraft SkyGuardian, and the maritime surveillance variant SeaGuardian.
You can follow the flight on FlightRadar24 by visiting https://flightradar24.com/N190TC