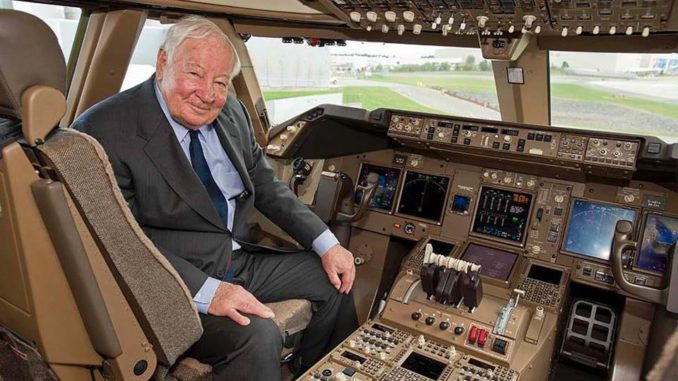 Regarded as the Father of the 747 Jumbo Jet, former Boeing engineer Joe Sutter has sadly passed away aged 95.
Joe led the engineering team responsible for the Boeing 747, arguably the most important passenger aircraft ever made, along with the being involved in the design of the Boeing 707 and Boeing 737.
Born in 1921 in Seattle, Joe started working for Boeing as a summer job in 1940 whilst studying Aeronautical Engineering at the University of Washington. He also served in the US Navy.
Leading the team known as "The Incredible's" Joe took the Boeing 747 from concept to roll-out in just 29 months and changed the way people flew forever.
In a tribute on Boeing's website Boeing Commercial Airplanes CEO Raymond Conner said "Long after he retired, Joe remained very active within the company. He continued to serve as a consultant on the Commercial Airplanes Senior Advisory Group, and he was still a familiar sight to many of us working here. By then his hair was white and he moved a little slower, but he always had a twinkle in his eye, a sharp mind and an unwavering devotion to aerospace innovation and The Boeing Company. Fittingly, he was on hand to celebrate our centennial at the Founders Day weekend. He was one of a kind."
Boeing renamed their main building after Joe in 2011 to mark his 90th birthday.
The Boeing 747 is a familiar sight at Cardiff Airport as British Airways maintain their fleet of Boeing 747-400 at British Airways Maintenance Cardiff (BAMC). The 747's iconic "hump" has made her the most recognisable aircraft in the skies, earning her the nickname "Queen of the Skies".
Our thoughts go out to Joe's family and all at Boeing.