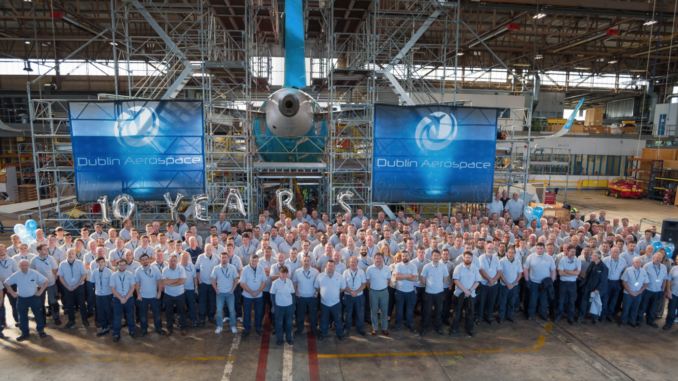 Dublin, Ireland based Aviation maintenance company, Dublin Aerospace Group, has launched Exeter Aerospace in the former Flybe Maintenance Facility at Exeter Airport.
The group already provides maintenance for Boeing 737 and Airbus A320 & A330 families at its site in Ireland but now aims to complement that with regional jet maintenance at Exeter.
Exeter Aerospace plans to operate six maintenance bays specialising in Embraer E170/190 Regional Jets along with Bombardier Dash 8/Q400 and ATR72 turboprops.
Commenting on the launch, Conor McCarthy, Chairman & CEO of Dublin Aerospace Group said: "We are thrilled to have made Exeter the home of our first UK MRO (Maintenance Repair and Overhaul) Centre. The availability of the Hangars and Workshops there, combined with a phenomenal pool of local aviation and engineering talent, makes this a hugely attractive location for us."
Exeter Aerospace is already seeking to hire 100 aircraft mechanics, engineers and aviation professionals offering a potential lifeline to engineers that lost their jobs when Flybe collapsed.
McCarthy added "Already, we have acquired all of the tooling and equipment we require for these aircraft types and have taken possession of the modern and purpose-built Exeter Hangars and Workshops. We are now in the process of applying for UK CAA and EASA (EU Aviation Safety Authority) approvals for Exeter Aerospace and have already commenced hiring our initial group of aerospace engineers and technicians,"
The plan over the next 3 to 4 years is to increase its initial 100 employees to 250 providing a much needed boost to the local economy.
If you are an Aircraft Maintenance Engineer or have experience in an Aircraft Maintenance Direct Support Staff position then you can email your CV to recruit@exeteraerospace.com.