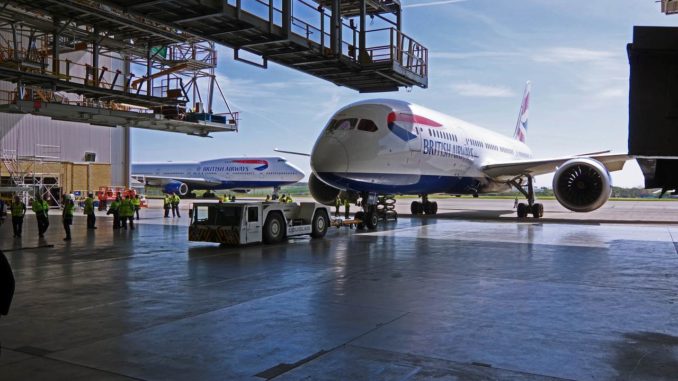 British Airways Maintenance Cardiff (BAMC) has successfully completed the first "B" check of a Boeing 787 Dreamliner.
The long haul maintenance facility at Cardiff Airport maintains British Airway's (BA) long haul fleet including Boeing 747, Boeing 777, Boeing 767 and now Boeing 787 aircraft.
The first 787 Dreamliner (G-ZBJA) arrived at the facility recently for 12 day B check before being returned to Heathrow to be put back into service.
A B check is completed roughly every 3 years and includes in-depth inspection of the aircraft and emergency evacuation systems. The interior was also subject to a top to bottom review with the seating being removed and taken to BA's Interior Engineering (BAIE) facility in Blackwood, South Wales.
BAMC has been preparing for the Dreamliner maintenance for over a year and the company now boasts 120 specialists fully trained on the  787.
British Airways Maintenance Cardiff 787 project team leader, Lauren Stacey, said: "We're excited to be able to work on such an advanced aircraft.
"We've received the best training and have the very best equipment to ensure the 787s are maintained to the highest standards.
"We are pleased to be able to do our bit to make sure our customers have enjoyable flights wherever they are flying on our 787s."
British Airways has 42 787's on order with Boeing and G-ZBJA was the first Dreamliner to enter service with the airline.