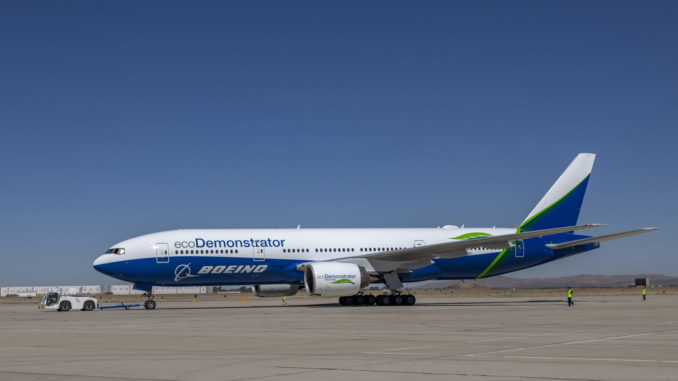 Boeing and Etihad Airways (EY/ETD) have announced a partnership that will see them test ways to reduce emissions and noise while flying with a sustainable fuel using a Boeing 787-10 Dreamliner.
The ecoDemonstrator 787-10 is one that is destined to be formally delivered to Etihad later this year.
Boeing and Etihad formed a strategic sustainability alliance in November 2019 and the latest ecoDemonstrator will see them partnering with industry leaders including NASA and Safran Landing Systems in order to conduct aircraft noise measurements from sensors on the aircraft and on the ground.
The data gathered by the experiments will be used to measure the sound reduction potential of aircraft designs, including landing gear, that are modified for quieter operations.
Traditionally people think of aircraft engines being the main noisemaker on an aircraft but research shows that the wind noise created by the landing gear and flaps when extended can be louder. Additionally, landing gear and flap noise is more prevalent at lower altitudes and near airports.
"Industry collaboration is a key aspect of Boeing's ecoDemonstrator program that enables us to accelerate innovation," said Stan Deal, Boeing Commercial Airplanes president and CEO. "We're proud to broaden our sustainability partnership with Etihad Airways by testing promising technologies that can reduce emissions, help commercial aviation meet our climate goals, and allow the industry to grow in a responsible manner that respects our planet and its natural resources."
The test programme is expected to last about 4 weeks and the results will include at least one flight during which pilots, air traffic controllers and an airline's operations centre will simultaneously share digital information to optimise route efficiency and improve safety by reducing workload and radio frequency congestion.