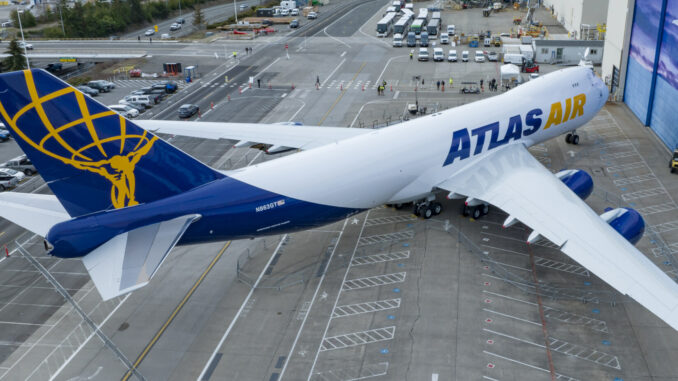 Everett, Washington is the undisputed home of the Boeing 747 from the "incredibles" who designed and built the first-ever Boeing 747 through the 1,573 additional 747s that were built so it was only fitting that the final one is handed over at the Everett site.
Atlas Air received the last-ever production Boeing 747, a model 8F variant, at this ceremony watched by thousands of people from past and current Boeing employees through to suppliers and customers of the Jumbo jet.
"This monumental day is a testament to the generations of Boeing employees who brought to life the airplane that 'shrank the world,' and revolutionized travel and air cargo as the first widebody," said Stan Deal, president and chief executive officer of Boeing Commercial Airplanes. "It is fitting to deliver this final 747-8 Freighter to the largest operator of the 747, Atlas Air, where the 'Queen' will continue to inspire and empower innovation in air cargo."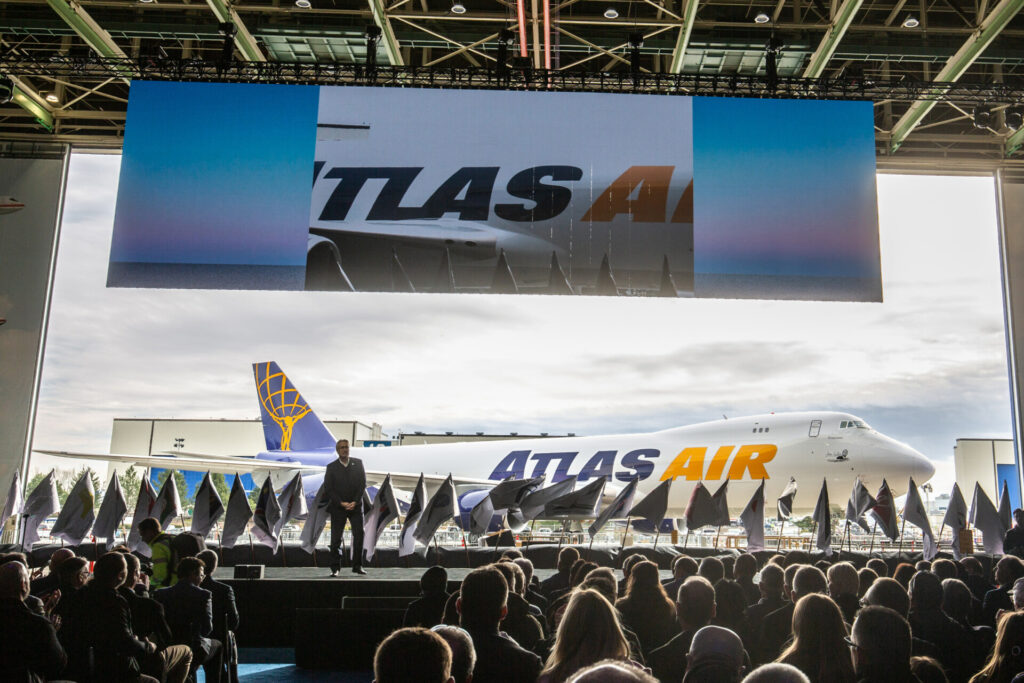 "We are honoured to continue our long history of flying this iconic aircraft for our customers around the world," said John Dietrich, president and chief executive officer, Atlas Air Worldwide. "Atlas Air was founded over 30 years ago with a single 747-200 converted freighter, and since then, we have spanned the globe operating nearly every fleet type of the 747, including the Dreamlifter, Boeing's 747 Large Cargo Freighter, for the transport of 787 Dreamliner parts. We are grateful to Boeing for their shared commitment to safety, quality, innovation and the environment, and for their partnership to ensure the continued success of the 747 program as we operate the aircraft for decades to come."
The first Boeing 747, the model -100, took its first flight from Everett, Washington on the 9th of February 1969 and entered service less than a year later with Pan Am.
It was the world's first twin-aisle airliner featuring a humped upper deck and quickly earned the name "Queen of the Skies" due to its spacious interior that brought air travel to the masses.
Variants that followed include the Model -200, -300 and the most successful of all in the passenger market, the -400.
The Boeing 747-8 was a revolutionary new version with improved aerodynamics and engines but airlines were already moving towards more efficient twin-jet airliners such as Boeing's own 777 and 787 airliners so sales of the passenger -8i version were limited. Just 48 of the passenger variant were sold compared to 442 passengers -400s.
The Boeing 747-8F version however was adopted by many freight carriers including Atlas Air, including the final one to be produced.