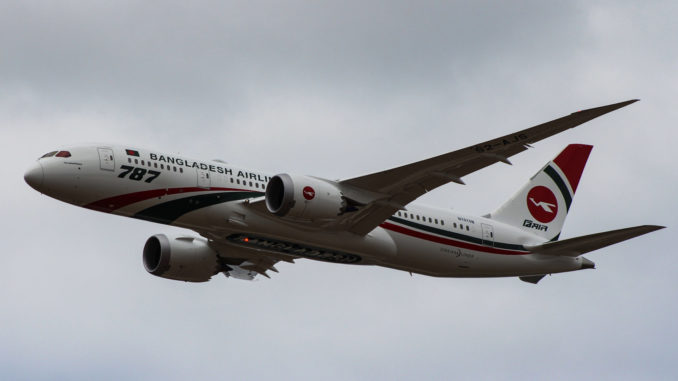 Biman Bangladesh Airlines (BG/BBC) will add flights from Manchester to the Bangladeshi capital Dhaka (DAC/VHGS) and the important region of Sylhet (ZYL/VGSY) in the New Year.
The route will be the first time Biman has operated from Manchester since leaving 7 years ago during a restructuring phase.
Starting on the 4th January 2020 the service will operate three times per week to the Bangladeshi capital and Sylhet, one of the two world's biggest cities using a Boeing 787 Dreamliner.
The flight will operate directly from Dhaka to Manchester outbound then via Sylhet on the return leg.
The UK has a strong Bangladeshi community and around 55,000 people a year currently travel from within Manchester Airport's catchment to Dhaka and Sylhet and that currently involves flying from London Heathrow or connecting elsewhere.
The route was announced at the UK's High Commissioners Office in Dhaka where the Mayor of Greater Manchester, Andy Burnham said "It is a great boost for this inaugural Greater Manchester visit to Bangladesh to achieve this new service.
"A direct connection between Manchester and Bangladesh will bring many trade, cultural and educational benefits and as well as being hugely valued by the many families of Bangladesh heritage living in Greater Manchester and across the North.
"I intend to keep building Greater Manchester's relationship with Bangladesh over the coming years so our friends from Biman can rest assured we will do all we can to promote and support this vital route."
The flight will operate on Saturday, Sunday and Tuesday using a two-class configuration Boeing 787-8 Dreamliner with 24 Business Class and 247 economy class seats available.