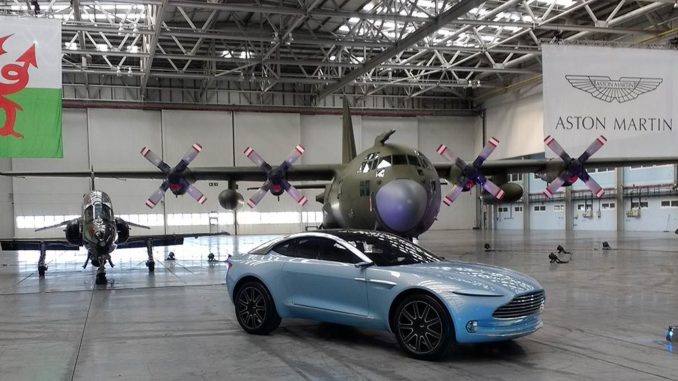 Today marked the official handover of the Superhangar facility at MOD St Athan to Aston Martin Lagonda (AML).
12 months ago, the facility beat off 20 other locations to become Aston Martin's site for the new DBX Sorts Utility Vehicle (SUV) and work has already begun to convert the site into an assembly line for the new model.
The MOD Superhangar was originally built for the MOD as a flagship service centre for fast jets from the Royal Air Force however the hangar never saw use in this role had been largely abandoned since its construction.
The handover to Aston Martin will see the facility transformed into an assembly line with vehicles passing through the hangars as they move through different stages of construction.
Handing over the facility on behalf of the MOD, Secretary of State for Defence, Sir Michael Fallon said "The investment is great news for Wales. Aston Martin's decision to build a new facility on MOD land we no longer need will also bring highly skilled jobs to Wales. Releasing this site, and others, will enable us to invest in a better defence estate for the armed forces and their families."
Aston Martin CEO, Dr Andy Palmer praised the Welsh Governments commitment to getting Aston Martin to St Athan saying that First Minister Carwyn Jones had "worked side-by-side with us on this programme from start to finish".
Aston Martin Facts

Aston Martin was founded by Lionel Martin and Robert Bamford in the year 1913

Aston Martin has been James Bond's vehicle of choice in the movies Goldfinger and Thunderball, specifically the Aston Martin DB5. Including Spectre Aston Martin has featured in 12 of the 24 James Bond films.

The name for the company came from one of the founders Lionel Martin who used to race at Aston Hill.
The Aston Martin St Athan site is expected to create up to 750 jobs in the Vale of Glamorgan with 45 staff from Wales already employed and training at the marques Gaydon site in Warwickshire.
As the project moves towards completion, £60m worth of contracts will be made available through the Welsh Governments "Sell to Wales" procurement system.
First Minister Carwyn Jones said, "Aston Martin is a major success story for Wales and I look forward to further building on our working partnership to bring maximum benefits for the economy and the reputation of Wales worldwide."
Aston Martin also said it wanted to engage with the local community and announced a 3-year partnership with Glamorgan Cricket and Cricket Wales along with a partnership with the Royal Air Force Benevolent Fund (RAFBE).
The Aston Martin DBX will be the companies first sports utility vehicle with the first models expected to be rolling off the production line in 2019.
[espro-slider id=2022]