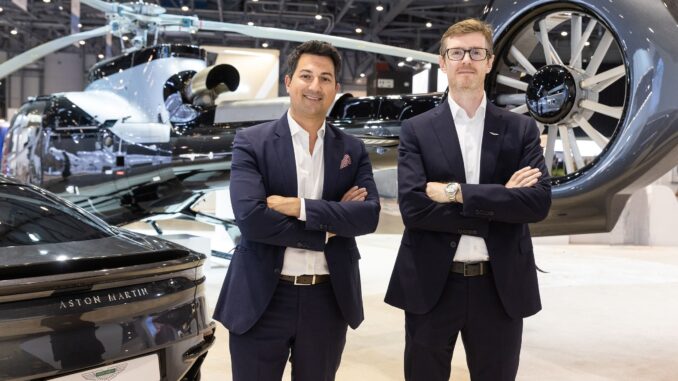 Airbus Corporate Helicopters (ACH) has said it will continue producing the Aston Martin Edition ACH130 after the initial run sold-out faster than expected.
The corporate helicopter, based on the Airbus H130, features a range of interior and exterior designs created by Aston Martin and this has clearly been a huge success for helicopter owners who also share a passion for high-end sports cars.
The initial run of 15 helicopters sold out almost completely within two years, with just 1 left available.
As a result, Airbus has committed to producing another 15 of the type.
Head of ACH Frederic Lemos said: "There's no question that bringing together our values of excellence and quality with Aston Martin's commitment to high-performance automotive ellegance has resulted in a helicopter that always excites customers. But we really did not imagine that the market would move so fast, so I'm delighted to be able to commit to these future production slots and I look forward to talking to interested customers at EBACE."
Aston Martin's Executive Vice President and Chief Creative Officer, Marek Reichman added: "As an ultra-luxury brand, Aston Martin is passionate about collaborating with designers and engineers from other disciplines to create special products that represent both our brand values and design ethos. We are delighted with the high interest in the ACH130 Aston Martin Edition and look forward to continuing our fantastic relationship with ACH."
ACH130 Helicopter
The single-pilot ACH130 is capable of carrying up to 7 passengers and has a range of 327nm, With a speed of 128kts, the aircraft has an endurance of around 4 hours making it ideal for the corporate and personal users.
Introduced in 2001, the ACH130 is a quiet and powerful helicopter offering unrivalled safety with a comfortable ride.