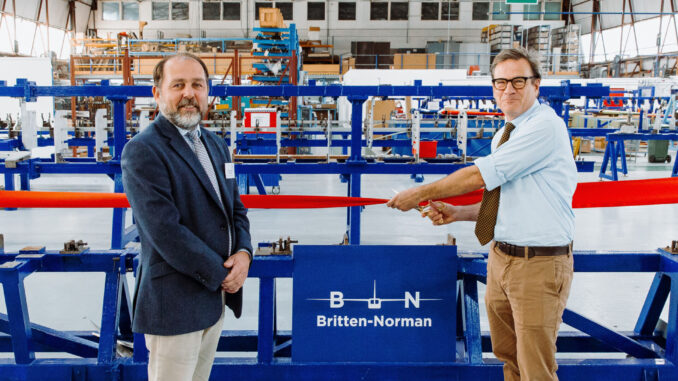 Aircraft manufacturing has returned to the UK for the first time in decades as Britten-Norman opens its new production line for BN Islander aircraft at Bembridge, Isle of Wight.
The Islander has been produced in various variants for 50 years but production was moved to Eastern Europe in the 1960s,
But Britten-Norman has now fully repatriated its production back to its home at Bembridge Airport.
The production line was officially opened by William Hynett CEO of Britten-Norman and Bob Seely MP for Isle of Wight.
Chief Executive of Britten-Norman, William Hynett, expressed his enthusiasm for this pivotal moment: "We are immensely proud to bring production back to the UK, where our manufacturing story began nearly seven decades ago. This move underlines our dedication to the highest standards of quality, innovation, and the resurgence of British aerospace manufacturing.
"We look forward to a bright future as we continue to build world-class aircraft right here in the UK."
The first UK-produced Islander should be complete in May 2024 with production expected to increase "fourfold" by 2027.
Island MP Bob Seely added: "The Islander's return to the Isle of Wight is an important and exciting day. I am delighted that Britten-Norman has made the decision to bring back the production line of their iconic plane to where it was first built, on the Isle of Wight.
"It's a major vote of confidence in the future of the Island and a significant investment for our skilled manufacturing base."