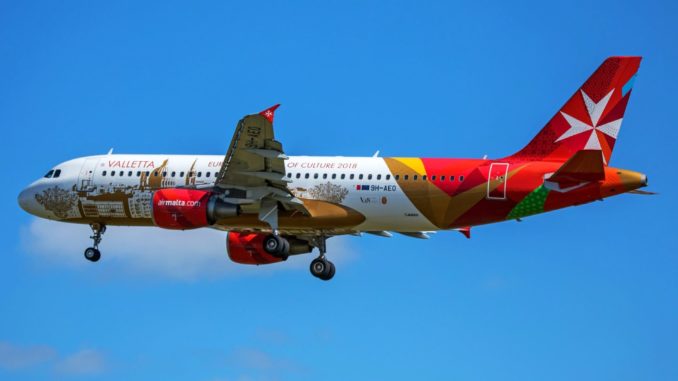 Maltese flag carrier launches flights to Malta and Italy
Maltese flag carrier, Air Malta is expanded its operations in the UK by adding three new routes to London Southend airport (SEN/EGMC).
From 4th May 2018, it will offer a direct service to Malta as well as flights to Cagliari and Catania in Italy. Both Italian routes offer onward connections to Malta.
Cagliari is the capital city of the Italian island of Sardinia whilst Catania sits in the shadow of Mount Etna on the Sicilian coast.
The Air Malta flights bring the number of airlines operating from Southend this summer to six with destinations across Europe.
Mr Glyn Jones, CEO of Stobart Aviation, owners of London Southend Airport added, "We are delighted to welcome Air Malta to London Southend – the UK capital's best and fastest growing airport. With our multi award-winning facilities, fast and frequent train services to London and market-leading record for punctuality, we look forward to providing great service to passengers from Malta, Sicily and Sardinia alike."
Air Malta's Chairman, Dr Charles Mangion stated, "Today we are announcing a milestone in the new Air Malta strategy. We are announcing today flight services connecting Malta, Sicily, Sardinia and London Southend. This is great news for the Maltese, Sicilians, Sardinians and British tourists alike who now have the opportunity to visit these destinations through Air Malta's services. Today's announcement is another step forward in the strategy to connect Mediterranean regions with the rest of Europe. To operate this ambitious schedule we are leasing in our 10th aircraft for this coming summer season. Indeed these are interesting times for Air Malta."
Air Malta operates an all Airbus fleet based at Luqa Airport in Malta.
Full Flight Schedule
Malta (MLA) – London Southend (SEN) – Malta (MLA)
Tuesday, Friday, Saturday
| | | | | | | |
| --- | --- | --- | --- | --- | --- | --- |
| KM182 | Dep. | Malta | 0645 | Arr. | London SEN | 0905 |
| KM183 | Dep. | London SEN | 0950 | Arr. | Malta | 1410 |
Malta (MLA) – Cagliari (CAG) – Malta (MLA)
Wednesday, Sunday
| | | | | | | |
| --- | --- | --- | --- | --- | --- | --- |
| KM186 | Dep. | Malta | 0530 | Arr. | Cagliari | 0645 |
| KM187 | Dep | Cagliari | 1430 | Arr. | Malta | 1545 |
Malta (MLA) – Catania (CTA) – Malta (MLA)
Monday
| | | | | | | |
| --- | --- | --- | --- | --- | --- | --- |
| KM184 | Dep. | Malta | 0525 | Arr. | Catania | 0605 |
| KM187 | Dep | Catania | 1450 | Arr. | Malta | 1530 |
Thursday
| | | | | | | |
| --- | --- | --- | --- | --- | --- | --- |
| KM184 | Dep. | Malta | 0525 | Arr. | Catania | 0605 |
| KM187 | Dep | Catania | 1500 | Arr. | Malta | 1540 |
Catania (CTA) – London Southend (SEN) – Catania (CTA)
Monday
| | | | | | | |
| --- | --- | --- | --- | --- | --- | --- |
| KM184 | Dep. | Catania | 0650 | Arr. | London SEN | 0900 |
| KM185 | Dep. | London SEN | 0945 | Arr. | Catania | 1400 |
Thursday
| | | | | | | |
| --- | --- | --- | --- | --- | --- | --- |
| KM184 | Dep. | Catania | 0650 | Arr. | London SEN | 0900 |
| KM185 | Dep. | London SEN | 0955 | Arr. | Catania | 1410 |
Cagliari (CAG) – London Southend (SEN) – Cagliari (CAG)
Wednesday, Sunday
| | | | | | | |
| --- | --- | --- | --- | --- | --- | --- |
| KM186 | Dep | Cagliari | 0735 | Arr. | London SEN | 0910 |
| KM187 | Dep. | London SEN | 1005 | Arr. | Cagliari | 1340 |