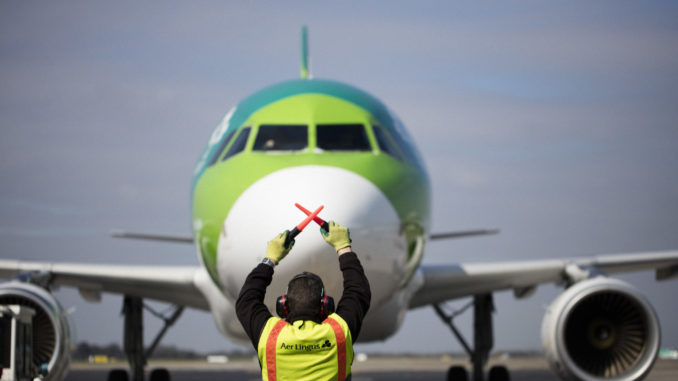 Irish carrier Aer Lingus (EI/EIN) has come under fire after images appeared on social media showing a packed flight from London to Belfast.
The images posted on twitter by BBC NI journalist Kelly Bonner show a packed flight with most of the seats taken in breach of social distancing guidelines.
This was the @AerLingus flight from @BELFASTCITY_AIR to @londonheathrow this morning at 8:45. No social distancing taking place – one passenger told me they weren't given any advice on how to keep themselves safe. More on @BBCevex next @taramillstv @NewsDeclan pic.twitter.com/eeAfcGf23O

— Kelly Bonner (@KellyBonner) May 4, 2020
Aer Lingus has all but stopped flying with only flights between London and Belfast and London and Derry operating.
According to the report by Ms Bonner, passengers were also not offered any hand sanitiser or advised on social distancing or safety measures when onboard.
Social distancing guidelines say you should keep 2 metres apart to help prevent the spread of Coronavirus as well as regularly washing hands or using a hand sanitising gel.
Although this isn't possible on aircraft, airlines are introducing measures such as seat blocking and reduced capacity.
Many airlines have also now introduced mandatory face coverings to reduce the risk of spread onboard an aircraft.
A spokesperson for Aer Lingus said "Aer Lingus is reviewing its processes and procedures applicable to the operation of this service.
"The safety and security of Aer Lingus' customers and crew is our top priority and any process changes that are identified as being required will be implemented as a matter of urgency."