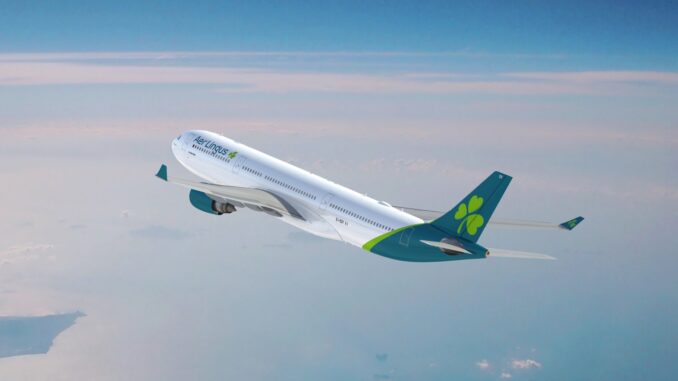 Just over a year after launching transatlantic flights from Manchester (MAN/EGCC) to New York (JFK/KJFK), Aer Lingus UK (EG/EUK) is upgrading the route from a long-range Airbus A321 to an Airbus A330.
The move will see the airline being able to offer 72% more seats on each flight by moving to the widebody A330 over the single-aisle A321.
The Airbus A321LR aircraft will be redeployed to Dublin to be used on routes including Dublin – Hartford and Dublin – Cleveland.
The change means that Aer Lingus will now offer 317 economy seats and 30 Business Class seats on the route.
Aer Lingus has seen a successful launch of operations over the year at Manchester Airport and this has directly driven the increase in seats. Throughout the summer it will operate daily flights to New York and Orlando with Barbados returning in November.
Aer Lingus UK is a wholly owned subsidiary of Aer Lingus which operates under a UK Air Operators Certificate (AOC).