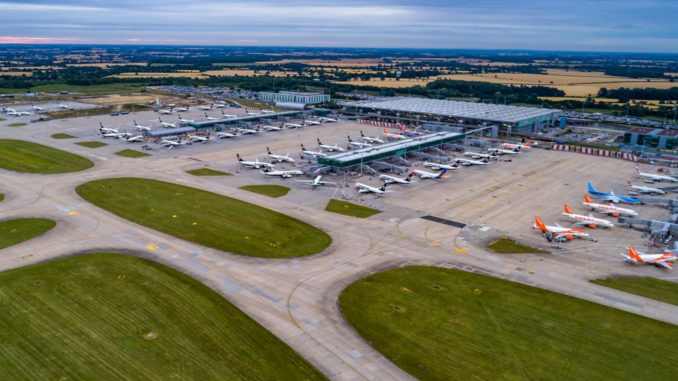 15 so-called activists are potentially facing jail after being convicted of  the intentional disruption of services at an aerodrome, an offence under the aviation and maritime security act.
The activists cut a hole in the perimeter fence at Stansted Airport (STN/EGSS) on 28th March 2017 and then chained themselves to a Boeing 767 which had been chartered by the home office to deport people who were in the UK illegally.
Helen Brewer, 28; Lyndsay Burtonshaw, 28; Nathan Clack, 30; Laura Clayson, 28; Melanie Evans, 35; Joseph McGahan, 35; Benjamin Smoke, 27; Jyotsna Ram, 33; Nicholas Sigsworth, 29; Melanie Strickland, 35; Alistair Tamlit, 30; Edward Thacker, 29; Emma Hughes, 38; May McKeith, 33 and Ruth Potts, 44 had tried to claim a defense based on "human rights" but the dismissed their arguments and convicted them all at Chelmsford Crown Court.
During the trial one of the defendants, Smoke, told the court "I was fighting to stop the plane deporting people to a place where they would be at risk of being killed or seriously harmed."
The Crown Prosecution Service (CPS) said: "Fifteen protesters used equipment such as industrial bolt cutters, chains, expanding foam, scaffolding poles and lock box devices to prevent the take-off of a plane.
"These people placed themselves, the flight crew, airport personnel and police at serious risk of injury or even death due to their actions on the airfield.
"The CPS worked with the police to build a strong case which reflected the criminality of the defendant's actions, regardless of their motivation."
Several MP's and activist groups have condoned the actions of the convicted group with Caroline Lucas (Green Party) saying on twitter that "This is a devastating blow to our fundamental right to protest." –  but the jury clearly saw a difference between legal protest and criminality. David Lammy (Labour) was another MP who condoned the use criminal actions.
All 15 will be sentenced at a later date at Chelmsford Crown Court.