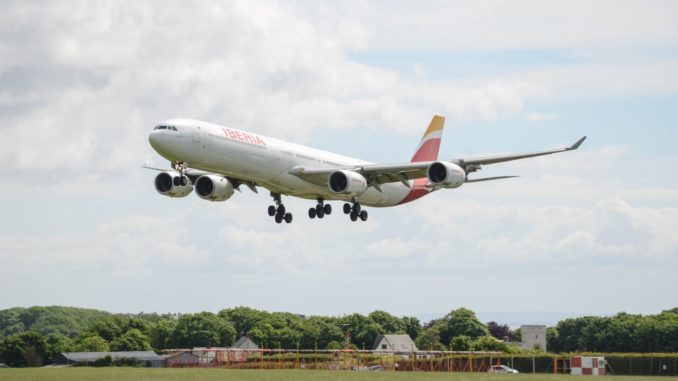 As we enter the new year with exciting times ahead for lots of areas of the welsh aviation industry in Wales, we take a quick look back at what made the headlines in 2017. A year of highs and lows for our airports and aerospace industry.
January 2017 saw the beginnings of a story that would run throughout the year when it emerged that Cardiff Aviation had never paid any rent for its twin peaks facility meaning it owed the Welsh taxpayer hundreds of thousands. It soon became clear that this was the tip of the iceberg for Bruce Dickinson's firm as work was non-existent and promised jobs never materialised, despite massive investment from the Welsh Government. It was a good month for Cardiff Airport however as Flybe extended their ski flights deeper into the season.
February saw Cardiff Airport to Anglesey operator Citywing plunged into crisis when their operator Van Air was grounded by the Civil Aviation Authority for safety reasons. A move that would ultimately collapse the virtual carrier. Financially Rolls Royce and Airbus posted record losses and a drop in profits respectively.
March came with tragedy as a family of 5 were killed in a helicopter crash in North Wales. For Cardiff Airport, new routes to Rome & Verona with Flybe came as well as Ryanair's new Faro service. Citywing collapsed leaving the public service route without an operator. Eastern Airways stepped in to take over. Former Heathrow executive, Terry Morgan, was appointed to the board at Cardiff Airport. GE Aviation Wales secured a £20m contract to maintain the new GE9X engines giving job security at the Caerphilly Plant.
Cardiff Airport saw some big news in April when it was announced that Qatar Airways had chosen the Welsh hub over nearby Bristol for its new service to Doha. The daily 787 service, which starts this year, sees a world of connections open up via Doha. Financial concerns grew for Cardiff Aviation as they were unable to pay staff. The maintenance company struck a deal with the welsh government which saw the majority of unpaid rent written off, a deal which left the Welsh taxpayer out of pocket by hundreds of thousands.
May came with the build-up for the UEFA Champions League Final which was hosted in Cardiff. Iberia Express launched its Cardiff to Madrid service ahead of the match between Real Madrid and Juventus as Cardiff Airport geared up for the big weekend. Wales' national airport also saw the first ever landing in the UK of the Airbus A350-1000 when Airbus carried out fuel tests at the airport.
June was all about the UEFA Champions League. The weekend saw 21,000 fans arrive at Cardiff Airport on a host of specially chartered flights from airlines including Alitalia, Iberia, Ernest and Blue Panorama. Cardiff Heliport also benefited from the event with a raft of private helicopters visiting the capital. June saw Cardiff Aviation announce redundancies but as it turned out, many staff had left voluntarily due to wages problems and no forced redundancies were needed. Flybe and Eastern Airways formed an alliance in June which would see Eastern flights being sold under the Flybe brand.
July saw Aviation Wales at several airshows including the Wales National Air Show, Yeovilton Air Day and the Air Tattoo at RAF Fairford. Drones were in the news again as a flight into Cardiff Airport reported a drone being flown on the approach. The CAA also announced Hawker Hunters were cleared to fly again this month.
August saw the start of a bad few months for European Airlines as Air Berlin filed for bankruptcy, the airline had a codeshare agreement with Flybe offering connections from Cardiff Airport. Flybe decided to end the air link between Cardiff and London despite high traffic numbers. The airline stated air passenger duty as one of the reasons the route was not profitable. A new charter flight from Super Break saw Cardiff Airport offering the first-ever direct flight from the UK to the Icelandic airport of Akureyri. More were to follow later in the year.
Ryanair had a bleak September when it was forced to cancel thousands of flights due to a "scheduling error". The airline denied it had a pilot shortage despite hundreds of pilots leaving for other airlines. The problems led to Ryanair pilots hitting back at the airline and threatening industrial action, a situation that is still ongoing today. Elsewhere it was confirmed that the daily service to Doha would start on May 1st 2018.
October saw the news that welsh company AerFin had become the UK's fastest growing exporter. The Caerphilly based company saw profits rise to £2.5m thanks to investments allowing it to make more acquisitions. The company remains one of the great stories of the welsh aerospace industry. UK Airline Monarch collapsed causing a shockwave through the industry as the board recognised that the airline was no longer viable. With Air Berlin, it was the 2nd major European airline to fail in less than 3 months.
November saw record orders for Airbus from the Dubai Air Show helping to secure jobs at the Airbus Broughton site in North Wales. Cardiff Airport came under pressure from unions over the "real living wage" for security staff which culminated in a promise from the airport to work towards paying that rate. November also saw an unusual job opportunity come up with a vacancy for a wingwalker with Aerosuperbatics. Welsh First Minister Carwyn Jones announced he would scrap Air Passenger Duty if Wales had the power to do so, but Welsh Secretary Alun Cairns is not allowing Wales to have control of those powers.
The year ended with another large order for Airbus from Delta Airlines, again the boost meant more wings made in North Wales by Airbus and job security. Plans for tougher sentences were announced in December for people who "attack" aircraft with laser pens. At Cardiff Airport Super Break added more charters for 2018 including Croatia & Madeira as Iberia Express confirmed they would be returning in 2018 to connect the Welsh and Spanish capitals. It also emerged that Cardiff Aviation was desperately seeking an investor for the company in a bid to survive. At the Heliport, Wales Air Ambulance opened a 4th base there with a permanently based Airbus EC135 helicopter for the Children's Wales Air Ambulance.