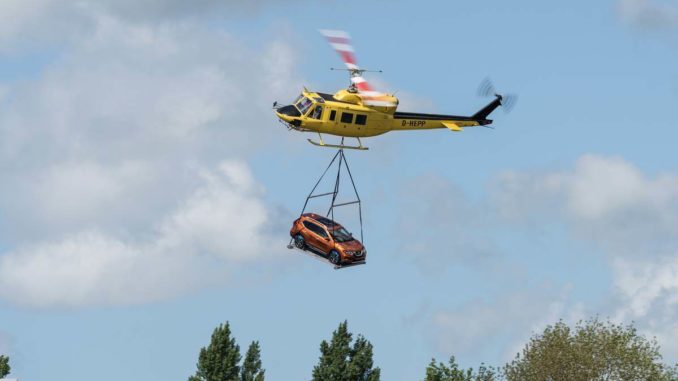 It was seen by many but exactly why was a Twin Huey flying a Nissan X-Trail around Cardiff Bay today?
It turns out it's all to do with the UEFA Champions League Final according to Nissan's promotions team.
To be fair it was never going to be subtle flying a bright yellow helicopter carrying the car to a field in the middle of Wales' capital city so it was hardly surprising that people took to twitter and Facebook to ask what the helicopter was up to.
A spokesperson for Nissan told Aviation Wales "As the UEFA Champions League automotive sponsor we are planning some exciting activations around the final."  but wouldn't expand on exactly what was being planned.
[Video by Peter Howlett]
What is known is that the Nissan X-Trail was met by a camera crew and drone camera's for a little bit of filming.
The X-Trail was flown around Cardiff Bay by a Bell 212 Twin Huey (D-HEPP) which is is a two-blade, twin-engine helicopter. It is the civilian version of the US Army UH-1N "Huey" which was made famous during the Vietnam War.
D-HEPP arrived at Cardiff Heliport on the Tremorfa Foreshore yesterday ahead of today's event.
The UEFA Champions League Final takes place on the 3rd June in Cardiff between Juventus and Real Madrid.