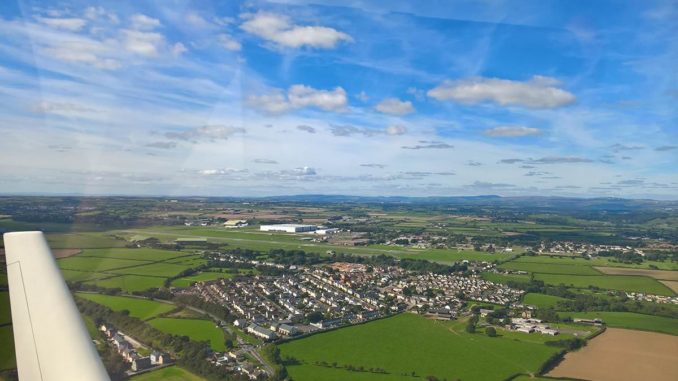 On June 3rd, 2017 Cardiff will host the final of the UEFA Champions League and the Welsh Capital will see an influx of around 170,000 people over the weekend. But the Vale of Glamorgan could lose out to the tune of tens of thousands.
Whilst many will arrive via scheduled and special charter flights into Cardiff Airport, others will arrive in their own aircraft ranging from small 2 seaters through to luxury biz-jets.
But if you are looking to arrive into Wales with your own aircraft then there is a problem thanks to the enforced airspace constraint for the 2nd, 3rd & 4th June. A constraint that means the Vale of Glamorgan will see little to no benefit from the event.
The constraint means that no Visual Flight Rules (VFR) traffic can arrive or depart from an area stretching from Swansea in the west to the English border in the east and the Bristol Channel area between Cardiff and Bristol. VFR traffic can also not transit through the area. This means no flying lessons or private flying from any airfield in that region and no VFR arrivals for the game in South Wales.
The result is that UEFA's official airfield for General Aviation (VFR Traffic) is Cotswold Airport (Kemble) in Gloucestershire, England meaning that visitors have a 70 mile trip to Cardiff and companies like St Athan based Horizon Flight Training have to not only cancel their operations for the weekend (flying lessons, charters, aircraft hire etc) but also miss out on the potential to host scores of aircraft and the associated revenue that comes with that. An estimated 100 General Aviation (GA) aircraft per day are expected to fly in for the event.
It's not just the flying clubs though. If aircraft were allowed to arrive into airfields such St Athan then you have the revenue from the local taxi & coach companies needed to take visitors into Cardiff, local hotels & B&B's miss out on revenue from passengers staying near to the airfield and of course, the local economy generally thanks to the increased number of people in the area. All that benefit will now go to England despite Wales hosting the event.
It won't even be balanced by the increased flights through Cardiff Airport as unfortunately for the Vale of Glamorgan Economy, a well-organised plan is in place to get visitors from Cardiff Airport into Cardiff as quickly as possible.
St Athan closed
The constraint, which is resulting St Athan being fully closed during the period, is already marred by controversy. The Welsh Government told Aviation Wales that "The impact has been long considered and relayed to operators through a number of forums over several months." but flying schools and local aerospace companies we spoke to say they still haven't officially been told that St Athan will be closed and for how many days.
The decision to close St Athan airfield has baffled many with the potential revenue not only for businesses within the airfield but the wider area as well, potentially running into millions.
Horizon Flight Training at St Athan, for example, have booked several aircraft to fly out to the Aero Expo at High Wycombe to promote GA flying in South Wales and raise awareness for the region but under the constraint, they now won't be able to depart resulting in a financial loss from the bookings and potential earnings from them being represented. Taking aside potential revenue from visitors for UEFA, Horizon's Owner, John Sparks told us that he stands to lose £6000 in revenue from cancelled lessons, aircraft hire and fuel. He told us that he will be seeking compensation for the lost revenue.
In a letter seen by Aviation Wales, Ken Skates AM says "The decision to close St Athan airfield during the UEFA Champions League Final at the beginning of June was made as a result of several discussions with the safety regulator around the constraints placed on UK airspace"
Obviously, there is a safety argument, Cardiff Airport will be much busier than during normal operations and St Athan and Cardiff Airport are located very close together but there was no such constraint in place for the NATO Conference or the Rugby World Cup. Both events saw a significant increase in traffic at Cardiff Airport. In fact, no previous event in South Wales has resulted in this kind of airspace constraint despite the Rugby World Cup seeing around 550,000 people visit Cardiff during the tournament.
Furthermore, there are safe ways for aircraft to depart from St Athan without conflicting with Cardiff Airport's approach paths with pilots and Air Traffic Controller Officers (ATCO's) agreeing that this is possible.
It seems strange that in an area that the Welsh Government is promoting as an Aviation Enterprise Zone, a constraint is put in place to effectively throttle any aviation that doesn't use Cardiff Airport. We asked the Welsh Government about this and that the constraint meant an airfield in England would be the Official GA Airfield and their spokesperson told us "The capacity constraints placed on the local airspace extend as far as Bristol,  GA traffic is able to operate normally outside of these constraints which include Swansea and other Welsh airfields."
No other welsh airfields including Swansea were considered as a viable alternative.