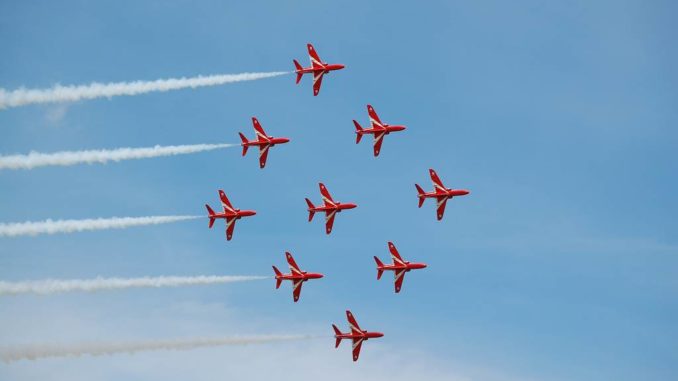 Everyone loves an air display and we're no exception, that's why we are giving you the low down on where to see The Red Arrows in Wales this year.
At the moment there are two confirmed displays by the reds which means you have three opportunities to see them.
June 12th – The Barry Festival of Transport.
The Red Arrows will once again be displaying over Barry Island and Whitmore Bay for the Barry Festival of Transport. The event, which always draws big crowds, will see vintage buses and cars come together in the biggest meeting of its kind in South Wales.  The event takes place  on Sunday 12th June and includes free heritage bus displays, a classic car show, the tourist railway and an open day at the local bus station. There is fun for all the family with a fun fair, attractions and entertainment.
What time will the Red Arrows be there? – Times havent been confirmed yet but it is likely to be early to mid afternoon.
Can I get more information? – Check out the event website
July 2nd – July 3rd – Wales National Air Show.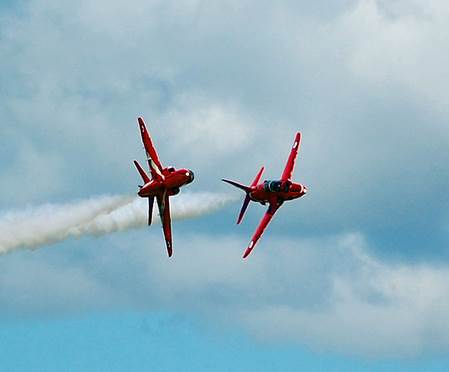 The Wales National Air Show (WNAS) returns again this year and now its annual! Swansea Bay will play host to a plethora of aircraft from local display teams through to the mighty Eurofighter Typhoon. The Red Arrows have been confirmed for both Saturday and Sunday at WNAS this year.
Other aircraft confirmed so far are the Battle of Britain Memorial Flight BBMF Spitfire, Hurricane and Lancaster, RAF King Air display team, Royal Navy Black Cats Lynx Helicopters and Swansea Airport based Team Raven.
The free event takes place along the seafront between Swansea and The Mumbles over the weekend with lots of events on the ground as well as in the air.
What time will the Red Arrows be there? – Times havent been confirmed yet but on Sunday they are likely to be closing the show so late afternoon.
Can I get more information? Visit the Wales National Air Show website
The Red Arrows are an RAF Display Team famous across the world for their pinpoint aerobatics and precision formation flying. They fly the BAe Hawk T1 jet which was used as an advanced trainer and capable of breaking the sound barrier at Mach 1.2!
The Red Arrows were formed in 1965 following the amalgamation of other RAF Teams including the Black Arrows, Red Pelicans and the Yellowjacks. originally flying the Folland Gnat aircraft they changed to the more modern BAe Hawk T1 in 1980.
Famous for their gleaming red aircraft and red white and blue smoke, they fly the flag across the world for the Royal Air Force and the United Kingdom.
Aviation Wales will be at both events streaming live video along with images on facebook and twitter.