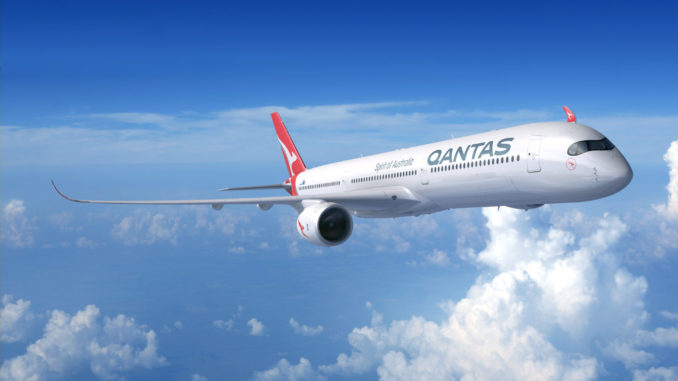 A350-1000XWB chosen over Boeing 777X
Australian airline Qantas (QF/QFA) has announced that it has selected Airbus aircraft to form the backbone of its Project Sunrise project to operate regular non-stop flights from Australia to London and New York.
The airline has selected Airbus A350-1000XWB aircraft which is great news for the United Kingdom as not only are the wings produced at Airbus UK's site at Broughton, North Wales but the Trent SWB engines are also manufactured by Rolls-Royce in Derby.
The already in-service A350-1000XWB won out over America rival aircraft the Boeing 777X which has been hit with delays and the first 777X deliveries are not now expected until 2021.
The deal however is not full signed as no actual order has been placed with the airline saying it would work with Airbus to create a draft deal for the aircraft.
The airline has already conducted two project sunrise test flights with the third, New York to Sydney, taking place on the 17th December.
The test flights have been carried out using Boeing 787 Dreamliners and the data gathered on the flights will be used to make the case for the Civil Aviation Authority (Australia) to approve the extended operations.
In a statement about the decision yesterday Qantas Group CEO Alan Joyce said "Between the research flights and what we've learned from two years of flying Perth to London, we have a lot of confidence in the market for direct services like New York and London to the east coast of Australia.
"The A350 is a fantastic aircraft and the deal on the table with Airbus gives us the best possible combination of commercial terms, fuel efficiency, operating cost and customer experience.
"The aircraft and engine combination is next-generation technology but it's thoroughly proven after more than two years in service. This is the right choice for the Sunrise missions and it also has the right economics to do other long haul routes if we want it to.
"From the outset, we've been clear that Project Sunrise depends on a business case that works. We'll only commit to this investment if we know it will generate the right return for our shareholders given the inherent commercial risks.
"We've done a lot of work on the economics and we know the last gap we have to close is some efficiency gains associated with our pilots. We're offering promotions and an increase in pay but we're asking for some flexibility in return, which will help lower our operating costs."
The Airbus A350-1000XWB for Qantas will be airline-specific Ultra Long Range versions and have an additional fuel tank installed and operate with a slightly higher maximum take-off weight.
The airline said that Airbus allowing the specific requirements to be made and the additional time to decide on the order were both factors in why Qantas choose Airbus over Boeing.