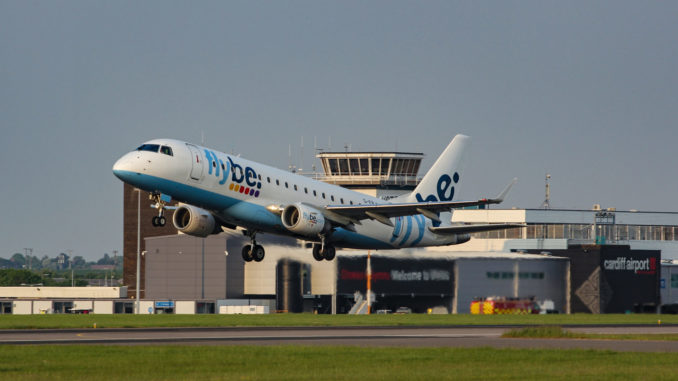 Ken Skates looks to impose PSO on up to 9 routes
The Welsh Government has announced that it is exploring opportunities to increase domestic flights from Cardiff Airport and ways to bypass Air Passenger Duty on those routes.
Ken Skates AM made the announcement yesterday saying he was working to impose up to 9 Public Service Obligation (PSO) routes from Cardiff Airport to destinations including Manchester, Leeds Bradford, Glasgow, Aberdeen and London.
Under EU regulations, for a public service obligation to be imposed the minister would have to prove that the route is of vital economic interest to the development of Wales. This has already been done with the Cardiff Airport to Anglesey route which operates twice-daily and is operated by Eastern Airlines.
Airlines are often not keen on being told what route they must operate and for how long but Mr Skates hopes to tempt them in with a 4 year exclusivity deal and the fact that a PSO route is exempt from Air Passenger Duty, the Governments crippling tax on flying, which immediately takes £26 each off the price of a ticket on a PSO route.
Flybe operated flights from Cardiff to London city in 2017 but ended the route specifically citing Air Passenger Duty as one of the biggest factors in why the route wasn't viable.
There have long been calls from all parties in Wales for the devolution of Air Passenger Duty but Vale of Glamorgan MP  and Welsh Secretary Alan Cairns refuses to do so.
The PSO route from Cardiff to Anglesey exists due to the lack of good road and rail links from North to South in Wales, the same argument, of course, couldn't be used for flights to Manchester or London which already benefits from fast train services.
Even If Mr Skates is able to put a case that a flight from Cardiff to Manchester is vital to the economic development of Wales, any deal done would likely need to be signed before 29th March 2019 as the UK will leave the European Union and the Public Service Obligation rules (EC:1008/2008) will no longer exist for the UK, although it is unclear whether they will be covered in the transition period.
The regulations say: "In order to maintain appropriate scheduled air services on routes which are vital for the economic development of the region they serve, Member States may impose public service obligations on these routes. Therefore, they must respect the conditions and the requirements set out in Articles 16-18 of the Air Services Regulation 1008/2008.
In case no air carrier is interested in operating the route on which the obligations have been imposed, the Member State concerned may restrict the access to the route to a single air carrier and compensate its operational losses resulting from the PSO. The selection of the operator must be made by public tender at Community level.

All impositions, modifications and abolitions of PSO as well as the corresponding calls for tenders must be announced in the Official Journal of the European Union."
Building domestic routes is in the interest of the Welsh Government which owns Cardiff Airport but attracting airlines to operate them is the tough part. Any airline operating domestic flights from Cardiff would face competition from low-fares airlines at Bristol who already fly to many of the planned destinations often with fares similar to ones that would be available on a PSO route.
Mr Skates has said that any airline taking on one of the routes would also benefit from marketing paid for by the Welsh Government in addition to the 4-year exclusivity deal.
Any potential operator will also be looking closely at the Cardiff to Anglesey route which has been somewhat of a poison chalice to airlines with previous operators Citywing and Jon Ibbotson's Links Air going bust while operating the route. Eastern Airways is the current operator with tickets sold via Flybe. The route is up for tender in June and Aviation Wales understands that Eastern is not currently committed to tendering for the route.
Some of the routes suggested by Mr Skates have already been tried and failed. Links Air operated a flight to Norwich only to end it after two months and as mentioned Flybe ran a route to London City. The latter having fares well below that of the Cardiff to London train service. Many people we spoke to at the time were not even aware that the Cardiff to London flight existed showing how important the marketing budget would be to any PSO route that starts.
It is very much "watch this space" to see whether Mr Skates is able to impose the PSO on these routes but the news was welcomed by Cardiff Airport who's Chief Executive Deb Barber said: "It is good news to see the ambition to develop more air connectivity between Wales and the rest of the UK, which has the potential to create business and UK-wide tourism opportunities and we give this initiative our full support".
Mr Skates also said he would renew his push for the devolution of Air Passenger Duty to Wales which is a welcome call from all sides although a vital opportunity was missed by his party when the Welsh Government recently agreed to the new Wales Bill which excluded APD devolution. Imposing PSO would also be seen as a direct 'poke in the eye' for Welsh Secretary Alun Cairns as it would circumvent his refusal to devolve or reduce Air Passenger Duty.
The development of Cardiff Airport is at a vital stage, it has just secured a long haul middle east link with Qatar Airways and, following a period of sustained growth, it aims to get passenger numbers up to 2 million by 2020 but it is also important it doesn't become obsessed with figures and the number of flights. Everyone wants to see routes develop at the airport and of course, domestic route availability in particular, but it is important that they are the right routes.
Imposing PSO could end up with subsidised flights operating potentially empty because they must operate. That scenario would do untold damage to the reputation of the airport and its Welsh Government owners.