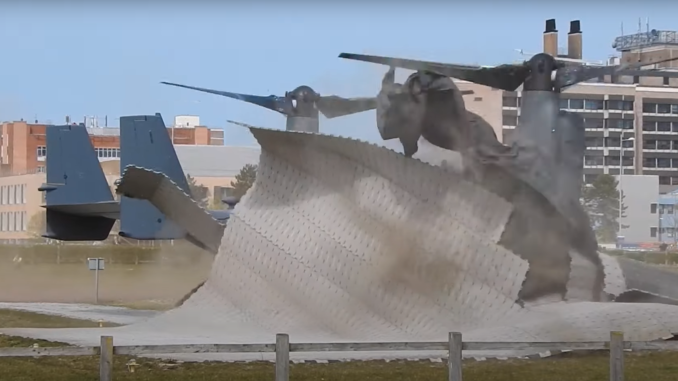 A US Air Force (USAF) CV22 Osprey has been filmed ripping up the landing pad used by the Air Ambulance at Addenbrooke Hospital in Cambridge.
The aircraft was understood to be undertaking medical transfer training when the incident occurred.
The CV22 Osprey is part-plane, part helicopter, thanks its engine vectoring allowing it to land like a helicopter but cruise like a fixed wing aircraft.
But its massive propellors were too much for the the matting that covers the helipad though which was sent flying when the Osprey took off.
Dr Victor Inyang, Medical Director of East Anglian Air Ambulance: "Due to an incident at the Cambridge University Hospitals helipad involving a military aircraft on Wednesday 21st April the helipad is temporarily unavailable to air ambulances.
"The next closest helipad is at Cambridge City Airport, where one of the East Anglian Air Ambulance (EAAA) teams is based.
"It will be possible for the EAAA helipad to be used as an alternative landing site during this time and have patients transferred to Addenbrooke's from there by land ambulance.
"Addenbrooke's is the major trauma centre for the region, therefore quick and efficient transfer of critically ill or injured patients to the hospital is vital.
"Using the EAAA helipad is the best alternative while the CUH helipad is reinstated."
This video, posted on YouTube by "Trailspotter" shows the whole incident.
<div class="videoWrapper">
<iframe width="560" height="315" src="https://www.youtube.com/embed/ObfdLy-QlsU" title="YouTube video player" frameborder="0" allow="accelerometer; autoplay; clipboard-write; encrypted-media; gyroscope; picture-in-picture" allowfullscreen></iframe>
</div>