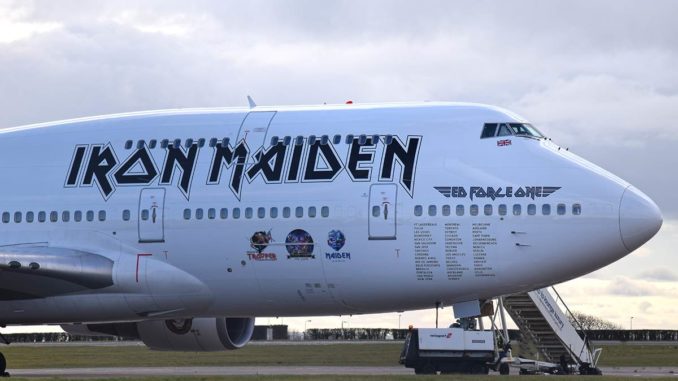 Cardiff Airport (CWL/EGFF) is known as a bucket and spade airport thanks to the majority of routes being to the traditional holiday destinations such as Spain, Greece and Portugal. But take away the likes of the Thomson, Thomas Cook & Flybe and you still have an airport that's busy, just not with conventional flights.
British Airways (BA)  has a large maintenance facility based at Cardiff Airport. Known as British Airways Maintenance Cardiff (BAMC) it handles maintenance for BA's long haul fleet as well as being a Boeing Gold Service partner.
British Airways Boeing 747, 787, 777 and 767 aircraft are a familiar sight at the airport as they run through their maintenance schedule. BAMC has also recently completed a round of maintenance on seven Boeing 787 Dreamliners belonging to Norwegian Air Shuttle on behalf of Boeing.
Royal Air Force
The Royal Air Force (RAF) regularly train at civilian airports and due to being a little quieter than many, Cardiff Airport sees a high-level of training flights by the RAF.
Aircraft can range from C130-Hercules, C17 Globemaster and their latest Airbus A400M Atlas to the fast jet Hawks and Tornados. It's even been known for aircraft such as the RAF's latest spy plane, the Sentinel R1 to make an appearance.
The RAF don't tend to land at Cardiff Airport instead using the airfield for approach and procedure training. This means they often perform impressive missed approaches at the airfield.
Cardiff Airport also sees its share of emergencies from the RAF. With all the low-flying carried out in Wales, Bird Strikes are relatively common.
Special Events
Cardiff Airport also sees a lot of traffic special events that happen in Wales. In 2014 NATO held a summit in the Celtic Manor which saw Cardiff Airport get heads of state and dignitaries from across the world arrive at a specially constructed temporary terminal known as Terminal 2 (or colloquially Tent 2). T2 was rolled out again for this years UEFA Champions League final which was held in Cardiff.
T2 was rolled out again for this years UEFA Champions League final which was held in Cardiff. Fans from Spain and Italy arrived in droves to see Real Madrid beat Juventus in the Principality Stadium. Over the 3 days, aircraft arrived from airlines rarely seen such as Alitalia, Iberia, Blue Panorama & Ernest Air, giving enthusiasts a real boost.
Business Jets
Cardiff Airport is also a haven for business jets which arrive at the airport on a daily basis.
These can be visiting dignitaries, heads of state or businessmen taking advantage of the growing welsh economy showing that Cardiff Airport is a gateway for industry into Wales.
Business traffic at Cardiff Airport is handled by the team at Signature Flight Support.
Also based at Cardiff Airport is Dragonfly Executive Air Charter which provides a highly efficient service to travellers who wish to avoid the tedium of travel on Britain's congested roads and railways. They use Beech King Air Turboprop aircraft to fly passengers comfortably and quickly direct to hundreds of airports and airfields within the UK and Europe.
Aircraft Testing & Emergencies
Due to the location of Airbus UK factories in North Wales and Bristol, Cardiff Airport makes an ideal base when doing certain tests for new aircraft. An example of this was the recent visit from the brand new A350-1000 aircraft.
The A350-1000 was based at Cardiff Airport for hot fuel trials being carried out by Airbus staff from Bristol. The aircraft spent 3 days at Cardiff Airport and operated test flights out over the Irish sea.
Cardiff Airport is often a favoured airport for aircraft looking to divert thanks to the extended runway length and the fact that it is a quieter airport. This means you can often get unexpected guests turn up from low-on-fuel transatlantic flights to unresponsive aircraft.
Cardiff Airport is well equipped to deal with any emergency, including when an Air Seychelles liveried Shorts 360 diverted into Cardiff Airport despite the airspace being restricted for the Champions League Final. After causing an airport closure, Armed Police went to have a little chat with the pilots of the unusual aircraft which was being flown from Africa to its new owner in the USA!
Ed Force One
Who could forget perhaps Cardiff Airports most famous visitor, Ed Force One!
Ed Force One was Iron Maidens Boeing 747-400 used for part of their Book of Souls World Tour which arrived into Cardiff Airport on the 17th February 2016 to one of the biggest crowds ever seen at Cardiff Airport and getting a warmer welcome that the current Air Force One would probably get. The perimeter of the airfield was surrounded with people hoping to get a glimpse of the jumbo decked out in a special Iron Maiden livery.
More fans turned out for its departure on the 19th February when Bruce Dickinson flew the plane out to Fort Lauderdale to meet up with the rest of the band and begin the tour.
So as you can see, if you pop down to Cardiff Airport you never know what you will see in addition to the regular flights.