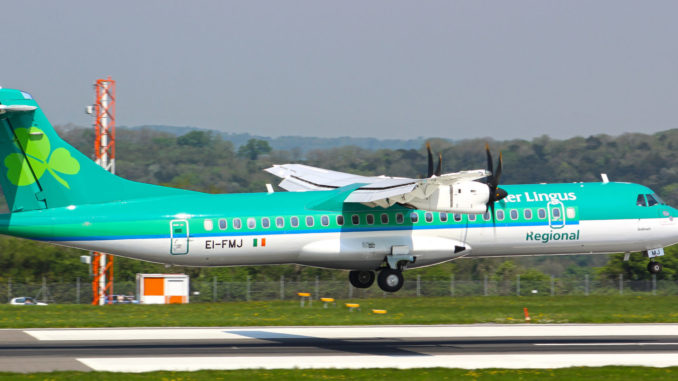 Loganair steps in with special rescue fares
Regional airline Stobart Air, which operates Aer Lingus Regional flights, has collapsed leaving hundreds of passengers stranded around the UK and Ireland.
The Dublin based airline announced it had ceased trading this morning and was a appointing a liquidator after flights were cancelled across the Are Lingus Regional network.
Stobart Air was due to operate dozens of flights from Dublin and Belfast City to the UK along with domestic routes within Ireland.
As a scheduled operator passengers don't have the same protection as a package holiday and the authorities in Ireland and the UK have no obligation to repatriate passengers although pressure is mounting on Aer Lingus to step in and repatriate passengers stranded at onward destinations.
In a statement, Are Lingus said: "Aer Lingus apologises to customers for the inconvenience caused by the cancellation at such short notice of all flights operated by Stobart Air.
"Aer Lingus is now communicating to customers to advise them of their options for refund or re-booking."
Stobart Air, which began life as Aer Arran in 1970, has been taking over some of the former Flybe network and was also due to launch flights from Cardiff Airport shortly.
It is owned by Esken, previously called Stobart Group and Stobart Air's managing director, Andy Jolly, told staff in a letter that: "In the absence of any alternative purchases, or any alternative sources of funding, for the Stobart Air UC business within the timescales required, Esken last night, 11th June 2021, advised the board of Stobart Air UC that it will not continue to provide financial support."
Leading regional airline Loganair has already said that will be offering special discounted fares for passengers affected the the collapse of Stobart Air. These rescue fares will allow passengers to continue their journey.
In a tweet, Loganair said: "If you were booked on a flight operated by Stobart Air, Loganair will offer a rescue fare on all of its routes to and from Belfast City of £60 one way including checked baggage to enable you to travel on any of our flights to complete your journey."