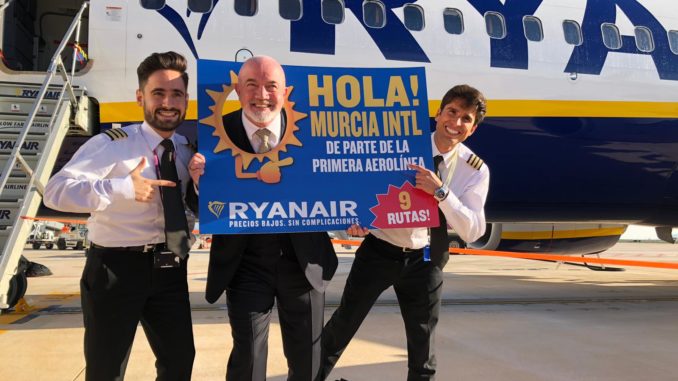 Irish budget airline Ryanair (FR/RYR) was the first airline to land at the new Murcia Regional Airport (RMU/LEMI) as it took over flights to the region from the old San Javier Murcia Airport.
Officially opened by King Felipe V1 of Spain, the airport will see flights from the UK with Ryanair, Easyjet, Jet2 and Flybe from airports including London Gatwick, Bristol, Southend, Bournemouth, Southampton, Leeds Bradford, Manchester, Luton, Birmingham and East Midlands.
It was Ryanairs new daily service from East Midlands to Murcia that the was the first arrival at the new airport.
In Murcia, Ryanair's Chief Commercial Officer David O'Brien said: "Ryanair is pleased to celebrate the arrival of our first flight at Región de Murcia International Airport. Ryanair was the first airline to touch down in Spain's newest airport, our 27th Spanish destination, where we will carry over 660,000 customers in the next 12 months.
As Spain and Murcia's number one airline, we are delighted to officially launch our first ever Summer 2019 schedule for Región de Murcia International. Ryanair's schedule includes 9 international routes to Murcia International, which will deliver 660,000 customers through this new airport."
The new airport was built as demand for flights to the region has outgrown the capacity for the old San Javier Airport, which was also a military airfield.
The new facility offers a dedicated civilian airport to the region capable of handling 3 million passengers per year.