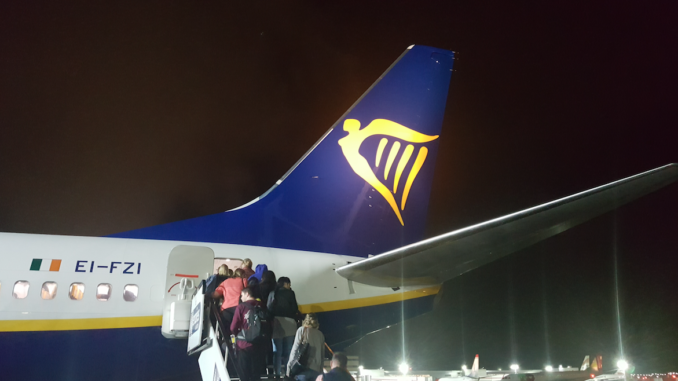 Irish budget carrier Ryanair is cancelling hundreds of flights in a bid to reverse its recent run of punctuality issues.
The Dublin based Low-Cost Carrier (LCC) says it will be cancelling around 50-60 flights per day for the next six weeks in a move that will affect up to 250,000 passengers.
Ryanair says its punctuality has dropped to around 80% and that is unacceptable, this move should help it return to its target of 90%.
For some passengers though, the cancellations have led to lost holidays and even being stranded without help from Ryanair. Passengers have taken to Twitter to vent their frustration.
Thanks so much @Ryanair for cancelling our flight for tomorrow morning. I really appreciate the 24 hours notice that I can't go on holiday!

— Becky Lucas (@bekylucas7) September 15, 2017
One twitter user had some tips for those planning on using airline:
Tips for flying with @Ryanair:

Don't. #Ryanair

— Bernie (@EnterpriseSBox) September 16, 2017
Many customers complained that it was hard to find out what flights were cancelled and called on the airline to give accurate information regarding which flights were cancelled prompting them to create a specific page.
Under current regulations, if an airline cancels a flight it must provide a full refund or an alternative flight within a reasonable amount of time, even if that involves rebooking you onto an alternative carrier. You could also be entitled to compensation.
Ryanair is no stranger to controversy, they recently announced they were banning wheelie bags from the cabin and reducing the cabin bag allowance to one if you don't pay for priority boarding. A move they claimed was needed as passengers were "taking advantage" of their "niceness".
Know your rights!

As Ryanair is an EU Based airline then you have the following rights if your flight is cancelled

A full refund within 7 days
A flight with an alternative carrier at their expense
Compensation for delay if the new flight is later than the flight you booked

These rights apply regardless of how long before the flight you were told of the cancellation or the reason for the cancellation.
Cancellations are unlikely to affect Cardiff Airport where Ryanair fly to Faro & Tenerife, however, Ryanair base Bristol Airport though has already seen today's Castellon flight cancelled.
The news comes as a Norwegian newspaper reported that this year 140 pilots have left the Ryanair for low-cost rival Norwegian. Norwegian Air Shuttles communications director, Lasse Sandaker-Neilsen told Nettavisen "I can confirm that nearly 140 pilots have moved from Ryanair to Norwegian so far this year, both to the new base in Dublin and other bases in Europe".