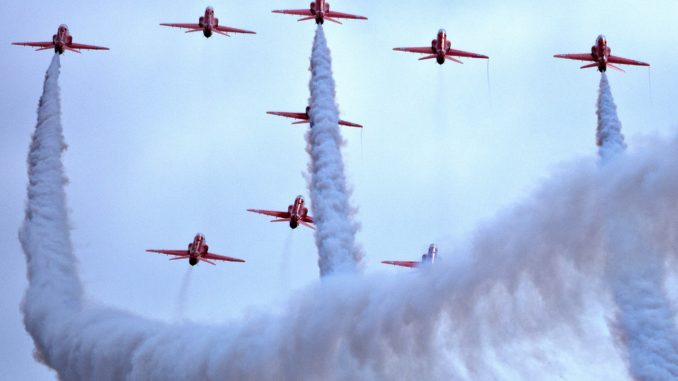 The Royal Air Force aerobatics display team, The Red Arrows, wowed crowds on Barry Island yesterday.
Despite weather looking questionable, hundreds turned out for the display which was organised by Barry Tourist Railway and was the penultimate display in Wales for the 2017 Red Arrows, their final one being at Rhyl Airshow on the 26th & 27th August.
The Red Arrows, who still use the BAe Systems Hawk T1 aircraft showed the crowd why they are considered the best air display team in the world with precision flying and heart-stopping passes.
The bright red jets had spent the night at Cardiff Airport on Saturday having arrived from a display in Northern Ireland.
The BAe Systems Hawk is synonymous with Wales as it is the RAF's Fast Jet Trainer used by the Fast Jet Training squadron at RAF Valley on Anglesey. The Hawk T1 was recently replaced at Valley by the latest Hawk T2 after 40 years in service. During the 2017 Eisteddford, Hawks from RAF Valley will be relocating to Llanbedr.
The Red Arrows are expected to have their Hawk T1 aircraft replaced by 2020 although no decision has been made about what type will replace them.
The National Police Air Service (NPAS) Team from St Athan also got in on the air action posting this view from above on Twitter
@_BARRYISLAND_ Festival of Transport today. Hope everyone is enjoying it! Were the @rafredarrows great? We saw them whilst we were airborne! pic.twitter.com/JSFYyceXKr

— NPAS St Athan (@NPAS_StAthan) August 6, 2017
Whats it like in the cockpit of the Red Arrows?