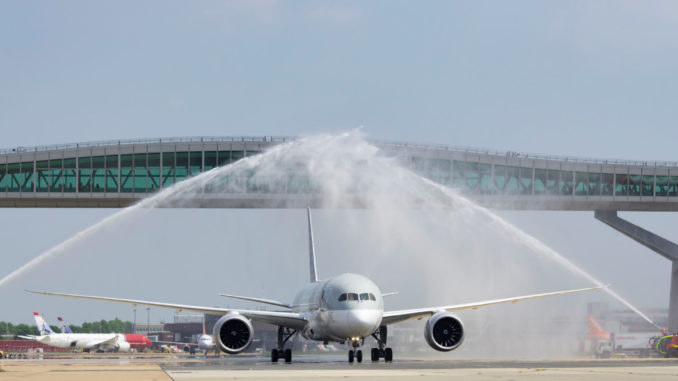 Qatar Airways has returned to London Gatwick airport today for the first time since it stopped services in 2011.
The worlds best airline has resumed operations with a twice-daily service to Doha (DOH/OTHH) using a Boeing 787 Dreamliner.
The return offers yet another link from the UK to Qatar and comes just a few weeks after Qatar Airways launched services from Cardiff Airport (CWL-EGFF).
Qatar Airways Group Chief Executive, His Excellency Mr Akbar Al Baker, said: "Qatar Airways is delighted to be expanding its reach in both London and throughout the U.K. Earlier this month, we launched direct flights to Cardiff, the capital of Wales, clearly demonstrating our continued commitment to this market. We are very proud of our strong and extensive trade ties with the U.K. and look forward to offering our loyal passengers the chance to explore the newest and most exciting destinations within our global network."
Gatwick Airport Chief Executive Officer, Mr Stewart Wingate, said: "I am delighted to mark the start of this double daily service to Doha today as Qatar Airways' extensive route network offers passengers more choice of onward destinations, including those across Australia, New Zealand and Asia. Qatar Airways is also one of the world's premier airlines and provides a level of service that is sure to prove popular with our passengers. 
"This new route also strengthens Gatwick's growing long-haul network, which has more than 60 routes and we hope to grow it further still in coming months."
This return to Gatwick means that Qatar Airways will operate 95 flights to the U.K. per week this summer, including six daily departures to London Heathrow, 16 weekly departures to London Gatwick and Manchester, and daily flights to Cardiff and Edinburgh, alongside seven flights per week to Birmingham.
Flights Schedule:
Doha – London Gatwick Flight Schedule:
Doha (DOH) to London Gatwick (LGW) QR 327 departs 08:30, arrives 13:30 daily
Doha (DOH) to London Gatwick (LGW) QR 329 departs 02:10, arrives 07:10 daily
Doha (DOH) to London Gatwick (LGW) QR 331 departs 15:00, arrives 20:00 Fri, Sat (from 15 Jun to 29 Sep)
London Gatwick – Doha Flight Schedule:
London Gatwick (LGW) to Doha (DOH) QR 328 departs 15:25, arrives 00:05 daily
London Gatwick (LGW) to Doha (DOH) QR 330 departs 09:00, arrives 17:40 daily
London Gatwick (LGW) to Doha (DOH) QR 332 departs 21:30, arrives 06:10 Fri, Sat (from 15 Jun to 29 Sep)