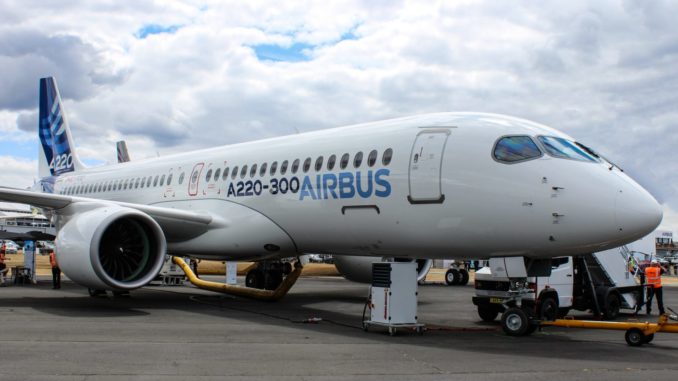 The final day of the Paris Air Show 2019 saw more orders for the hugely successful Airbus A321XLR with Saudi budget carrier Flynas ordering of the type, albeit tentatively at the moment.
Flynas also said that they were converting orders for 10 A320neos to the larger A321neo.
This makes the total number of airlines who are buying the A321XLR, which only launched 4 days ago, to 11.
Nordic Air Capital also gave the European air-framer a last day boost when it signed a Memorandum of Understanding (MoU) to buy 20 Airbus A220's.
Overall though, the Paris Air Show 2019 has been quieter than previous years, in fact its had the lowest orders since Farnborough 2016.
That is indicative of the current economic climate and also the current situation of US air-framer Boeing and its problems with a range of aircraft including the 737 Max.
Hopefully things will improve for Farnborough 2020, we'll see you there.
Full Paris Air Show 2019 Order List
| Customer  | Airline | Type | Status | Total |
| --- | --- | --- | --- | --- |
| AirAsia | AirAsia | A321neo | Swap | 253 |
| Air Lease | Unknown | A220-300 | Order | 50 |
| International Airlines Group | Level | 737 Max 8 | Order | 50 |
| International Airlines Group | Level | 737 Max 10 | Order | 50 |
| International Airlines Group | Vueling Airlines | 737 Max 8 | Order | 50 |
| International Airlines Group | Vueling Airlines | 737 Max 10 | Order | 50 |
| Saudia | Saudia | A320neo family | Option | 35 |
| American Airlines | American Airlines | A321XLR | Swap | 30 |
| Air Lease | Unknown | A321XLR | Order | 27 |
| Qantas | Qantas | A321XLR | Swap | 26 |
| Air Lease | Unknown | A321neo | Order | 23 |
| Undisclosed customer | Unknown | ATR 72-600 | Order | 22 |
| KLM | KLM Cityhopper | E195 E2 | Order | 20 |
| United Airlines | United Airlines | E175 | Order | 20 |
| Nordic Air Capital | Unknown | ATR 42-600 | Order | 20 |
| Nordic Air Capital | Unknown | ATR 42-600 | Option | 20 |
| Nordic Air Capital | Unknown | ATR 42-600 | Option | 20 |
| Indigo Partners | Wizz Air | A321XLR | Order | 20 |
| Accipiter Holdings | Unknown | A320neo | Order | 20 |
| American Airlines | American Airlines | A321XLR | Order | 20 |
| Nordic Air Capital | Unknown | A220 | Order | 20 |
| United Airlines | United Airlines | E175 | Option | 19 |
| Indigo Partners | Frontier Airlines | A321XLR | Swap | 18 |
| Cebu Pacific Air | Cebu Pacific Air | A330-900neo | Order | 16 |
| KLM | KLM Cityhopper | E195 E2 | Order | 15 |
| Saudia | Saudia | A321XLR | Order | 15 |
| Saudia | Saudia | A320neo | Order | 15 |
| Nordic Air Capital | Unknown | ATR 72-600 | Order | 15 |
| Nordic Air Capital | Unknown | ATR 72-600 | Option | 15 |
| Nordic Air Capital | Unknown | ATR 72-600 | Option | 15 |
| Undisclosed customer | Unknown | SpaceJet M100 | Order | 15 |
| JetBlue Airways | JetBlue Airways | A220 | Swap | 13 |
| Indigo Partners | JetSmart | A321XLR | Order | 12 |
| China Airlines | China Airlines | A321neo | Order | 11 |
| JetBlue Airways | JetBlue Airways | A220 | Order | 10 |
| Cebu Pacific Air | Cebu Pacific Air | A321XLR | Order | 10 |
| Cebu Pacific Air | Cebu Pacific Air | A321neo | Option | 10 |
| Korean Air | Korean Air | 787-9 | Order | 10 |
| Korean Air | Korean Air | 787-10 | Order | 10 |
| Qantas | Qantas | A321XLR | Order | 10 |
| Elix Aviation Capital | Elix Aviation Capital | ATR 42-600 | Order | 10 |
| Flynas | Flynas | A321XLR | Order | 10 |
| Virgin Atlantic Airways | Virgin Atlantic Airways | A330-900neo | Order | 8 |
| International Airlines Group | Iberia | A321XLR | Order | 8 |
| International Airlines Group | Iberia | A321XLR | Option | 7 |
| International Airlines Group | Aer Lingus | A321XLR | Option | 7 |
| Virgin Atlantic Airways | Virgin Atlantic Airways | A330-900neo | Option | 6 |
| TAAG Angola Airlines | TAAG Angola Airlines | Q400 | Order | 6 |
| International Airlines Group | Aer Lingus | A321XLR | Order | 6 |
| China Airlines | China Airlines | 777F | Order | 6 |
| Cebu Pacific Air | Cebu Pacific Air | A320neo | Order | 5 |
| Air Lease | Unknown | 787-9 | Order | 5 |
| Delta Air Lines | Delta Air Lines | A220-100 | Swap | 5 |
| Undisclosed customer | Unknown | ATR 42-600 | Order | 5 |
| Middle East Airlines | Middle East Airlines | A321XLR | Swap | 4 |
| Air Antilles | Air Antilles | DHC-6 Twin Otter | Order | 2 |
| Binter Canarias | Binter Canarias | E195 E2 | Order | 2 |
| Fuji Dream Airlines | Fuji Dream Airlines | E175 | Order | 2 |
| Atlantic Airways | Atlantic Airways | A320neo | Order | 2 |
| Air Tahiti | Air Tahiti | ATR 42-600 | Order | 2 |
| Easyfly | Easyfly | ATR 42-600 | Order | 1 |
| Turkmenistan Airlines | Turkmenistan Airlines | 777-200LR | Order | 1 |