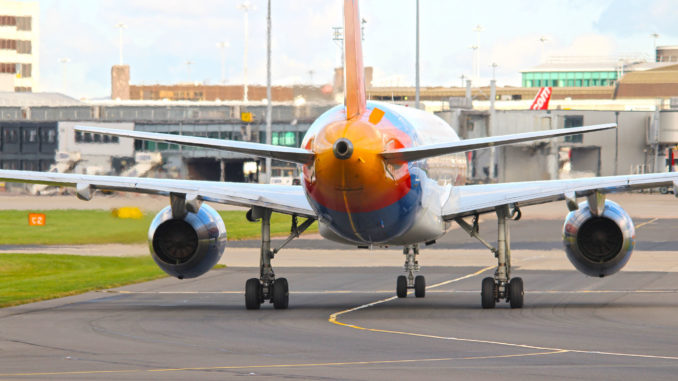 Manchester Airport (MAN/EGCC) has confirmed it is re-opening Terminal 2 from 15th July as passenger numbers increase at the UK's 3rd busiest airport.
Terminals 2 & 3 closed earlier this year as almost all flights from Manchester Airport were suspended at the height of the Coronavirus pandemic. Terminal 3 re-opened on 1st July.
Tomorrow will be the first time all three terminals have open in 3 months.
Brad Miller, Chief Operating Officer at Manchester Airport, said: "As we continue to see the return of more airlines and destinations for our passengers to fly to, we remain fully committed to ensuring their safety throughout their airport journey.
"With the introduction of travel corridors, we envisage passenger numbers to continue to increase, which is why we are opening Terminal Two from 15th July, to maximise the airport space.
"These travel corridors will open up the chance for people to enjoy a well-earned break abroad and directly benefit the hundreds of thousands of people whose jobs depend on air travel for their livelihoods – whether they work in aviation or for the UK's tourism and hospitality businesses, which can now welcome the first overseas visitors we will have seen for months.
"We have made our airport safe for our passengers and staff, and we have already started limited operations to many of these countries. With the quarantine requirement now removed, we look forward to safely welcoming back many more passengers in the coming weeks.
"I'd again like to thank all our passengers for continuing to abide by the measures in place during these uncertain times, and also thank all our staff who have gone above and beyond to ensure safe travel for all."
Manchester Airport Airline Terminal Changes
| | |
| --- | --- |
| Airline | Information |
| Brussels Airlines | Remaining in Terminal One for July – move to Terminal Two TBC |
| Ethiopian Airlines | Remaining in Terminal One for July – move to Terminal Two TBC |
| Eurowings | Remaining in Terminal One for July – move to Terminal Two TBC |
| Hainan Airlines | Flights on 10th and 25th July in Terminal One  – move to Terminal Two TBC |
| Iran Air | Remaining in Terminal One for July – move to Terminal Two TBC |
| Jet2.com | Flights resume from 15th July in Terminal One |
| Qatar Airways | Moving to Terminal Two on 17th July |
| TUI | Flights resume from 11th July in Terminal One and moves to Terminal Two on 15th July |
Destinations already resumed from Manchester Airport
Emirates – Dubai
Eastern Airways – Southampton
Swiss Airlines – Zurich
Iran Air – Tehran
Finnair – Helsinki
British Airways – Heathrow
Brussels Airlines – Brussels
easyJet:

Malaga
Alicante 
Amsterdam
Belfast
Paris
Faro
Palma
Tenerife

Ethiopian Airlines – Addis Ababa
Pegasus – Istanbul
Turkish Airlines – Istanbul
TUI:
Ryanair:

Dublin
Lanzarote
Malaga
Alicante
Barcelona
Milan
Budapest
Rome
Brussels
Faro
Ibiza
Lisbon
Madrid
Palma
Prague
Berlin
Tenerife
Brindisi
Belfast
Billund
Bologna
Bordeaux
Bratislava
Cagliari
Carcassonne
Corfu
Cologne
Eindhoven
Fuerteventura
Gdansk
Kiev
Kerry
Krakow
Almeria
Limoges
Nantes
Porto
Palermo
Pisa
Reus
Rhodes
Murcia
Rzeszow
Thessaloniki
Shannon
Seville
Sandefjord
Venice
Valencia
Warsaw
Wroclaw
Agadir
Beziers
Copenhagen
Gothenburg
Girona
Katowice
Marseilles
Naples
Marrakesh
Riga
Destinations resuming this week from Manchester Airport
Ryanair:
easyJet:

Athens
Barcelona
Basel
Corfu
Copenhagen
Catania
Gibraltar
Geneva
Hamburg
Heraklion
Jersey
Lisbon
Malta
Paphos
Prague
Pisa
Berlin
Venice

Etihad – Abu Dhabi
Jet.com:

Lanzarote
Izmir
Malaga
Alicante
Antalya
Bodrum
Corfu
Dubrovnik
Dalaman
Kefalonia
Bergerac
Faro
Funchal
Fuerteventura
Girona
Heraklion
Ibiza
Skiathos
Kos
Larnaca
Almeria
Las Palmas
La Rochelle
Menorca
Paphos
Palma
Pisa
Pula
Preveza
Reus
Rhodes
Murcia
Split
Tenerife
Zante

SAS:
TUI:

Lanzarote
Corfu
Heraklion
Kos
Rhodes
Tenerife

Vueling – Barcelona
Airlines that remained in operation from Manchester during the pandemic
Air France
KLM
PIA
Qatar Airways
Aer Lingus
Lufthansa
Eurowings