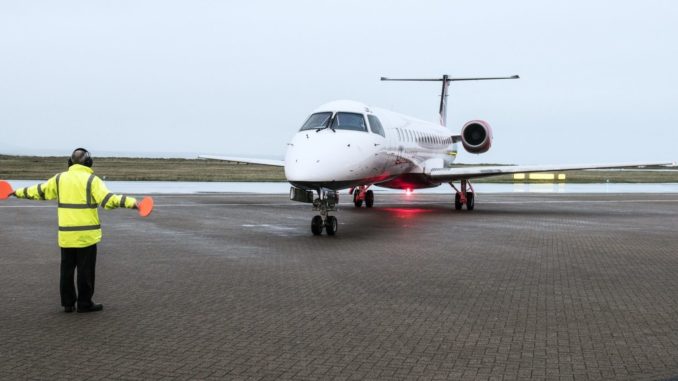 Leading regional airline Loganair (LM/LOG) has announced a raft of new routes for its Winter 2021 schedule along with a 50% increase overall in the number of seats for the season.
Many of the routes have previously been summer only routes and will be operated in the winter for the first time.
Winter 21/22 will mark the biggest schedule ever for the airline which has seen exceptional growth, not counting lockdown periods, over the last few years.
The new winter routes are:
City of Derry – Liverpool 
Bristol – Teesside 
Birmingham – Isle of Man 
Belfast – Isle of Man 
Belfast – Teesside 
Manchester – Newquay 
Exeter – Glasgow
Newcastle – Newquay 
Exeter – Newcastle
Edinburgh – Newquay 
Exeter – Norwich 
Birmingham – Inverness 
Edinburgh – Exeter
Kay Ryan, chief commercial officer at Loganair, said: "There is no doubt that the last 15 months have been the toughest in record for the aviation industry. Loganair had planned an ambitious program for both the summer and winter 2020 with several new destinations appearing on our route map and I am delighted that we are now able to fully realise our ambitions for both seasons. 
"Our winter program, from 29 October through to the end of March 2022, represents a 50% increase in seats and provides the regional connectivity needed across the country, and in particular opens up the UK for our more remote island communities."
Birthday treat
Meanwhile, one young Loganair fan got a treat on his 5th birthday when staff at his local airport, Benbecula, arranged a cake and all sang happy birthday before his latest flight.
George Clark has already flown 50 times with the airline despite his young age and insists his mum takes him to the airport usually twice a day.
George lives in North Uist but flies regularly to Stornaway, a 35-min flight away, to see his dad.
Besides his flights, George also collects model aeroplanes and watches any loganair footage he can find on YouTube!
George's mum Sharon Clark said: "George absolutely loves everything about planes – he has done since he was just two years old. He loves watching them take off and travel down the runway so we spend a lot of time at the airport. The staff have been incredibly accommodating to George and his travel arrangements and I am extremely grateful for their help and kindness towards him – it makes his travelling all the more special for him. 
"I can't really pinpoint a time when his obsession with planes started however he is a regular flier and every single flight is exciting for him. To get the chance to sit in the cockpit and meet the Captain is a dream come true for George. His fifth birthday is one that he definitely won't forget."