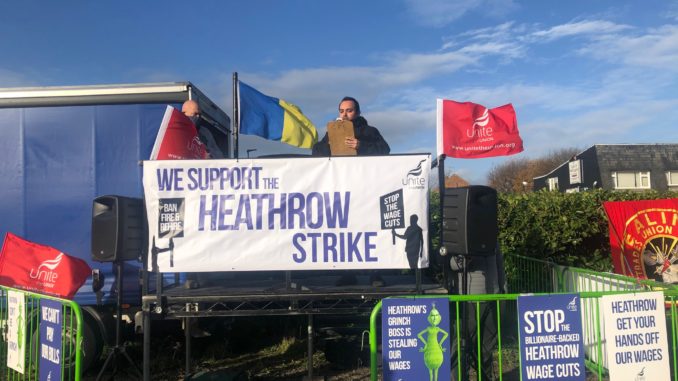 Workers employed by Heathrow Airport are carrying out strike action over 3 days this week in a protest about proposed pay cuts.
Staff that are members of the Unite Union are ramping up strike action with action today, and also on Thursday 17th December and Friday 18th December.
Todays action includes a car rally protest and comes after a a protest on Friday which saw speakers including John McDonnell MP and James Murray MP address the workers.
Workers involved in the strike action include firefighters, engineers, campus security, baggage operations, central terminal operations and landside and airside operations who voted 84% in favour of industrial action.
Unite says that the strike is the result of Heathrow Airport's 'decision to fire and rehire its 4,000 employees on vastly inferior contracts. Unite members are facing permanent pay cuts up to 25 per cent of their pay (£8,000 per annum).'
The union is also claiming that 'despite Heathrow airport continuing to operate during the strikes, management has failed to provide details of its contingency plans and questions remain about safety.'*
Unite regional co-ordinating officer Wayne King said: "Workers will be ramping up strike action this week as HAL has refused to withdraw its decision to brutally fire and rehire its loyal staff.
"The airport's success was built on its workforce, who have continued to ensure it operates throughout the pandemic, on occasion risking their health," adding "HAL has repaid them by conducting the most brutal fire and rehire operation ever seen in the UK.
"HAL would rather pay millions on arranging for contingencies during the strike then agree a fair deal for its loyal workforce,"
"HAL is using Covid as cover to force through long-held plans to cuts workers' pay. This is about greed not need. If this was related to the pandemic, HAL would be looking for temporary pay cuts."
The strike is not expected to cause any disruption to flights of passengers using the airport.