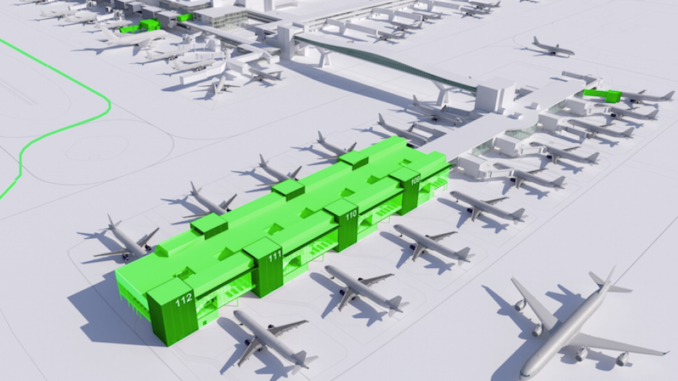 Gatwick must expand existing infrastructure
London Gatwick Airport (LGW/EGKK) has unveiled a 5-year plan that will see it pump 1.1bn into the airport as it seeks ways to increase capacity.
The UK's second largest airport is expecting passenger numbers to hit 53m by 2023 but as it has lost out to Heathrow in the government's airport expansion policy meaning it won't get a third runway, it needs to seek alternative ways to deal with the extra capacity.
In order to this Gatwick must look at its existing infrastructure and find ways to improve and expand that. This will include expanding its current piers to accommodate larger aircraft.
Gatwick's South Terminal will see a new domestic arrivals facility, including a new baggage reclaim area and the North Terminal departure lounge will get a new mezzanine level extension featuring new restaurants.
Stewart Wingate, Gatwick Airport's Chief Executive, said: "Gatwick is a major piece of national infrastructure, and our continued growth and ability to attract long-haul airlines is vital for the health of the UK economy, particularly in a post-Brexit world. We are exploring ways to grow our capacity, including developing new systems and processes to handle more passengers, and considering how we use all our existing infrastructure in the future. 
"By committing to spend another £1.11 billion, Gatwick can continue to grow sustainably, attract new airlines and offer more global connections, while providing an excellent service to passengers.
"This year we will welcome new quieter aircraft with the introduction of A321s by easyJet and we are developing our infrastructure now, by reconfiguring airfield stands and planning for the construction of a major extension to our Pier 6 facility. These initiatives will support this next phase of growth.
"Looking beyond this capital investment programme, we welcome the Government's support for airports making the best use of their existing runways and we will plan for our longer-term future by developing a Masterplan later this year".
Gatwick Airport has also started looking at Dual Runway operations using its 08R/26L "Safety Runway" but it is unclear how viable that option could be.