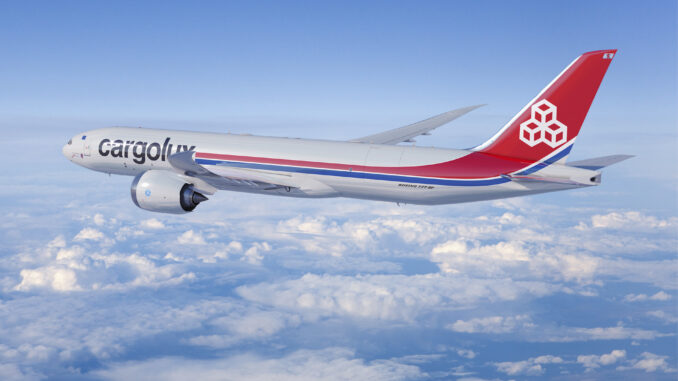 Luxembourg-based freight specialist Cargolux has selected the Boeing 777-8F to replace its Boeing 747-400 freighters in an announcement at the Farnborough International Airshow.
The company is the world's largest operator of Boeing widebody freighters with 30 Boeing 747-400 and 747-8F aircraft in its fleet and replacing the older -400s with the 777-8F will allow the company to reduce its fuel costs and carbon footprint.
"With the selection of our newest freighter as their preferred solution, Cargolux continues its long and enduring history with Boeing, integrating the 777-8F seamlessly into the airline's all-747 cargo operations," said Stan Deal, president and CEO of Boeing Commercial Airplanes. "With its investment in the 777-8 Freighter, Cargolux will operate the most advanced, fuel-efficient, twin-engine freighter in the industry. The 777-8 Freighter significantly reduces CO2 emissions compared to previous models with a reduced noise footprint, helping to advance Cargolux's commitment to sustainable operations."
The 777-8F will be able to carry a payload of 112 tonnes across distances up to 4,410nm with is only 1 tonne less than the 747-400.
Richard Forson, president and CEO of Cargolux added "With the 777-8 Freighter being the preferred solution to replace our 747-400s, Cargolux is looking forward to continuing its ongoing relationship with Boeing,"