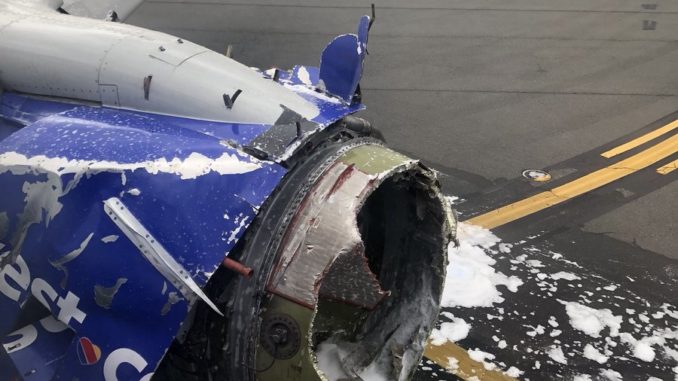 FAA, CFM and Airlines must work to find a solution
The Federal Aviation Administration (FAA) is to issue an airworthiness directive that will require airlines to carry out inspections on CFM56 engines on Boeing 737's.
The move comes as a result of an engine failure on a Southwest Airlines flight on Tuesday which killed one passenger although the FAA has been working on the directive for some time. The administration had been under pressure to deal with this issue following a similar incident onboard another Southwest Airlines flight last year, although no one suffered an injury on that flight.
The National Transportation Safety Board (NTSB) said it had traced the fault on Tuesdays flight back to a broken fan blade saying that they found an "internal crack" in the blade. This prompted the FAA to say will issue an airworthiness directive within the next two weeks that will require inspections of certain CFM56-7B engines.
In a statement, the FAA said: "The directive will require an ultrasonic inspection of fan blades when they reach a certain number of takeoffs and landings. Any blades that fail the inspection will have to be replaced".
Following the previous Southwest incident, a service bulletin was in mid-2017, where CFM International, the engine maker, recommended that airlines ultrasonically inspect blades in CFM56-7Bs that had accumulated more than 15,000 cycles since the last inspection. The said this should be done as soon as possible.
The CFM56-7B is one of the most common engines in the sky being fitted to Boeings Next Generation 737's (-600/-700/-800 &-900) and they have an extremely good safety record and events involving cracked blades are extremely rare.
The news comes just days after the FAA issued another airworthiness directive restricting Boeing 787's fitted with Rolls Royce Trent 1000 engines to 140min ETOPS. This was also due to problems with fan blades cracking under stress although the Trent 1000 problem is in the 2nd stage of the compressor.
The FAA along with CFM and the airlines now need to work on a permanent solution to prevent this issue happening again.