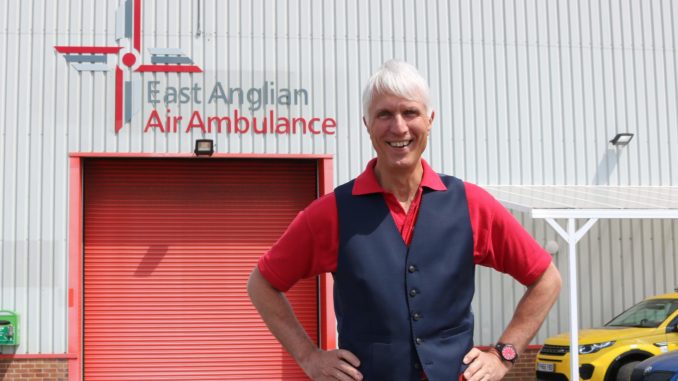 East Anglian Air Ambulance (EAAA) has announced that it has appointed a new Chief Executive Officer (CEO) to replace Patrick Peal who is retiring from the role.
The charities current Director of Operations, Matthew Jones, will head the charity from the end of June 2021.
Mr Peal has led the charity for seven years after being integral to the founding of the charity just over 20 years ago.
During his tenure as CEO he has seen the operation expand to cover every day of the year, 24 hrs a day thanks to the introduction of rapid response vehicles, and before he leaves the post, the charity will transition to 24/7 flying.
Speaking about his decision Mr Peal said: "Being CEO of East Anglian Air Ambulance is the best job I've ever had, but all good things must come to an end eventually. The charity is approaching an exciting new era of 24/7 helicopter operations and now is the right time for me personally to step back and let someone else lead EAAA into what I'm sure will be a very exciting future.
"I have achieved everything that I set out to as CEO seven years ago and couldn't be prouder of the organisation as it stands today. It has an amazing culture of fun and high-performance, and everything is always geared towards providing the very best patient outcomes and value for money.
"Despite significant impacts of the pandemic on operations and fundraising over the last year, EAAA has weathered the storm brilliantly and continues to push ahead with key projects, such as starting to fly 24/7 this summer and moving into our new Norwich base. I'm really proud to have seen all the years of planning come together over the last few months into a truly spectacular, world-class facility in Norwich. The teamwork and progress at EAAA, despite recent challenges, has been beyond fantastic. I am delighted that Matthew Jones will be succeeding me as CEO and have every confidence that the charity will continue to go from strength to strength in his very capable hands." 
Matthew Jones added: "It's a huge honour to be offered the opportunity to lead this fantastic organisation into the future and I will do my very best to carry on the remarkable work that Patrick has started. Patrick has been an enormous part of getting this charity to where it is today and it is extremely humbling to be entrusted with this role. My first focus will be on implementing 24/7 operations from our new base in Norwich, a long-term goal of the charity's which will make a huge difference to the type of service we're able to provide at night."
Find out more about East Anglian Air Ambulance.