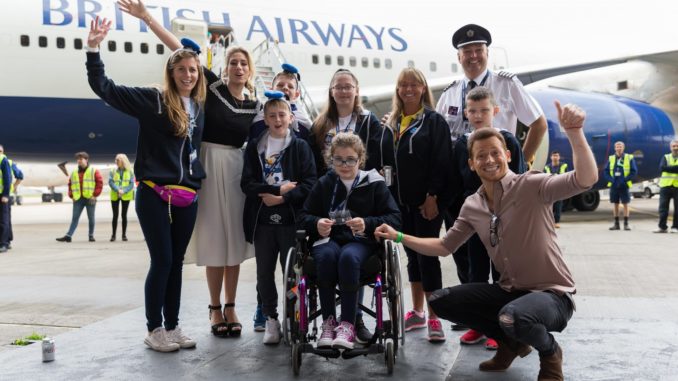 The annual "Dreamflight" holiday has taken place this year with hundreds of children with serious illnesses or disabilities jetting off for the holiday of a lifetime.
The charity, which was founded by British Airways employees Patricia Pearce and Derek Pereira, raises money each year to take a group of around 200 children and an army of volunteers on a specially chartered British Airways Boeing 747 to Orlando, Florida. This year saw the children visiting Harry Potter World and swimming with dolphins at SeaWorld.
British Airways comes together with the Dreamflight team each year to make the departure an extra-special event. As well as X-factor winner Stacey Soloman and former Eastenders star Joe Swash were on hand to send the kids on their way, volunteers, including Darth Vader, his Stormtroopers, the Air Cadet National Marching Band and British Airways cabin crew and pilots were at Heathrow to see the children board the Boeing 747 through a magical castle.
British Airways Captain, Philip Ticehurst has been volunteering for Dreamflight for over 11 years, flying the aircraft and helping to raise money for the charity. Speaking just before the flight departed he said: "The Dreamflight trip is one of my absolute highlights of the year. The children are such an inspiration to us all, and I feel honoured to be part of the British Airways team supporting this wonderful once-in-a-lifetime trip."
Since being founded in 1986, the charity has over 5600 seriously ill and disabled children enjoy a holiday of a lifetime. Through donations and fundraising, the charity raises the money for each child to have a place at a cost of around £3500.
On this year's trip, the children also visited Walt Disney World and Universal Studios on their 10-day adventure.
Speaking on their return to London Heathrow Adam Proctor, 13 and from Garvagh in Co Londonderry, said: "Dreamflight was fantastic – the holiday of a lifetime."
Find out more about Dreamflights work here.