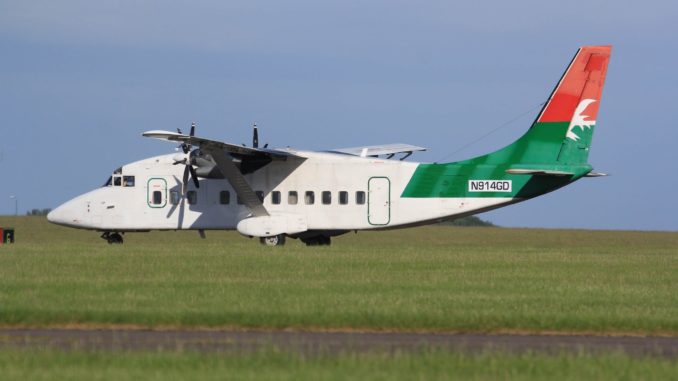 A flight inbound to Cardiff Airport with a full emergency this afternoon caused the airport to be closed for around an hour and prompted an armed response from Police.
The Shorts 360 aircraft, registration N914GD was en-route from Marrakech when the aircraft developed numerous problems including a suspected fluid leak prompting it to declare an emergency and divert to Cardiff Airport touching down just before 6pm.
Upon landing the aircraft held on the runway observed by a fire engine for around 10 minutes before turning onto the Golf taxiway to park and shut down.
Air Traffic Control was then unable to communicate with the aircraft, possibly due to the fact they had shut down the aircraft, which meant armed officers were sent out to surround the aircraft and get the crew to disembark in a safe manner.
This was carried out promptly by armed Police officers who, after an inspection of the aircraft and crew, declared the area safe.
During this time the runway was closed in order to ensure the runway was safe to use as the crew had reported a fluid leak. This meant 2 Flybe and 1 Eastern Airways flights had to hold above the airport for some time. An Iberia A340 was also due to depart taking Real Madrid fans home.
After about an hour the runway had been checked and the airport resumed normal operations.
The Shorts 360 N914GD was believed to be en-route to the USA from Marrakech and still wears it's Air Seychelles livery.
A spokesperson for Cardiff Airport said "At 1758 a full emergency was declared by a private aircraft and as per protocol, the Airport Fire and Rescue Service and local emergency services responded. 
The aircraft landed safely with no further issues reported. The runway reopened at 1853 with minimal disruption to scheduled flights.
The safety and security of the Airport team and passengers remains the number one priority."