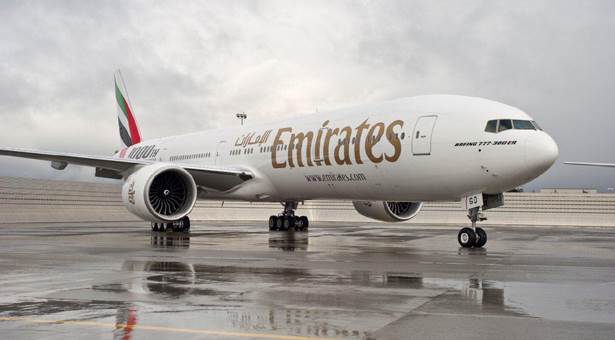 A team of airport executives, including Aviation and Business development manager Spencer Birns, have jetted out to the Arabian Travel Market event in Dubai, UAE with the aim of convincing a gulf carrier to begin operations at Cardiff Airport (EGFF/CWL).
Cardiff Airport are said to be targeting either Dubai based Emirates or Abu Dhabi based Etihad Airways to link Wales with the middle east and lucrative arabian business markets.
Currently most middle eastern traffic still comes into the UK via London's Heathrow (EGLL/LHR) and Gatwick (EGKK/LGW) airports however both Manchester (EGCC/MAN) and Birmingham (EGBB/BHX) have seen healthy growth in this region. Both Etihad and Qatar Airways have also announced services to Edinburgh (EGPH/EDI).
Unlike Bristol Airport (EGDD/BRS) Cardiff has the capacity to handle larger aircraft such as the Boeing 777 and Airbus A330 family on long haul routes and also has a growing domestic connection network along with excellent transport links to the rest of the UK with the nearby M4 and mainline trains to London and central England.
Lord Rowe-Beddoe first hinted that the Welsh Airport was targeting Gulf carriers in early 2014 and a direct link to the middle east would be a major boost to the struggling South Wales economy as it strives to attract new business to the region.
The arrival of Emirates or Etihad into Cardiff would also open up the opportunity for single stop flights to other regions such as Australia and Asia via Dubai or Abu Dhabi.
It remains to be seen whether the Gulf states see the attraction of a Welsh gateway but as the domestic connection network increases it can only look more attractive to them.