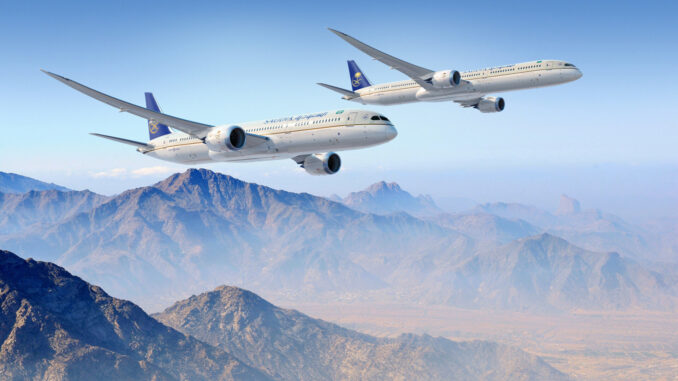 US airframer Boeing has signed a deal with Saudia for the purchase of 39 Boeing 787 Dreamliner aircraft, with an option for a further 10.
The Saudi Arabian national carrier is purchasing a mixture of Boeing 787-9 and 787-10 Dreamliners as it looks to grow its long-haul network and build on its plan to turn the country into a global aviation hub.
"Saudia continues its expansion efforts in all aspects of the airline; whether it's introducing new destinations or increasing the aircraft fleet," His Excellency Engr. Ibrahim Al-Omar, Director General of Saudia Group. "The agreement with Boeing delivers on this commitment and the newly added aircraft will further enable Saudia to fulfill its strategic objective of bringing the world to the Kingdom".
The Boeing 787 provides airlines with the opportunity to open up fuel-efficient non-stop long-haul routes without turning to extra large-capacity aircraft such as the Boeing 777 or Airbus A380.
"Adding to its 787 Dreamliner fleet will enable SAUDIA to expand its long-haul service with outstanding range, capacity and efficiency," said Stan Deal, president and CEO of Boeing Commercial Airplanes. "After more than 75 years of partnership, we are honored by Saudia's confidence in Boeing products and will continue to support Saudi Arabia's goal to expand sustainable air travel."