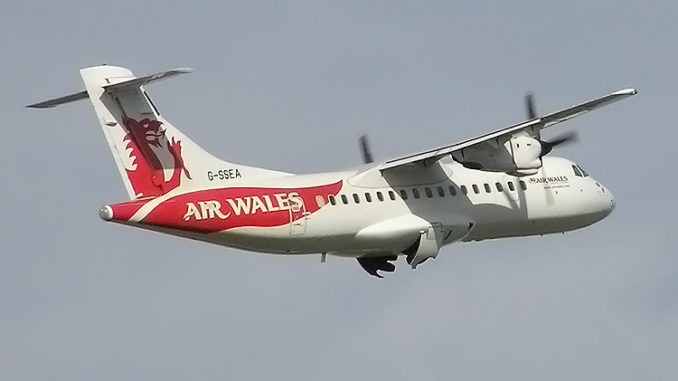 Plaid says it will have direct flights to the USA & Europe
Self-styled Party of Wales, Plaid Cymru said it would introduce a National Airline for Wales if it got control of the Welsh Government at the next assembly elections.
Assembly Member Adam Price made the claim during his speech in Llangollen last week.
Wales has had two welsh airlines based at Cardiff previously, both of which were privately owned. Cambrian Airways launched in 1935 and flew for 41 years before ceasing operations in 1976 after it was merged into the newly formed British Airways. Awyr Cymru (Air Wales) was founded in 1997 and ceased operations in 2006.
Around the world airlines used to be regarded as vital infrastructures, like railways or roads. So, until the mid-'80s, governments owned many of their countries airlines. They set the fares and routes and protected flag-carriers by restricting competition.
Privatisation, however, made air travel more competitive and liberalisation brought competition from low-cost carriers. Most airlines in state control failed to adapt and were either privatised or ceased trading.
There has been no national airlines in the UK since British Airways was privatised in 1987 and competition has eroded away expensive and poorly run national airlines elsewhere. When a government props up a company with taxpayers money the incentive to be competitive isn't there which usually results in poor passenger experience, dwindling load factors and it becoming a sinkhole for taxpayers money.
Under the pledge made at the party conference, the party said its national carrier would offer direct links to the United States of America and Europe.
The financial barriers that would prevent Plaid Cymru from carrying out this pledge however are also massive. Notwithstanding having to be elected in the first place, something Plaid Cymru has so far failed to do, the financial requirements are massive.
Industry consensus suggests a figure of £5.5m would get you to a point where you can start to operate one aircraft, assuming, of course, you are able to get the rights to the routes you want, and another £2-3m would be required for branding, marketing and promoting the new carrier. Then, of course, there wages and training for your new crews.
That is in the region of £8-10m of Welsh taxpayers money, just to get to the starting line.
The ongoing costs then kick in, most airlines don't even break even in the first year. Figures from people we spoke to varied from £100,000 to £700,000 per month running costs for a small regional airline. Together with the start-up costs that makes a year 1 figure of around £20m. If, as planned, it is an international airline then that figure is nearer £100m
It's also unlikely that Wales could sustain a national airline, as seen with Cambrian Airways & Air Wales who both had to expand outside of Wales. If Plaid Airways did the same then they would have us, Welsh taxpayers, subsidising travel from English airports.
We offered Plaid Cymru the chance to demonstrate costings and to supply some further information, we also contacted Adam Price AM & Leanne Wood AM directly to see whether this was a firm pledge, or "back of a cigarette packet politics". Both declined to respond.